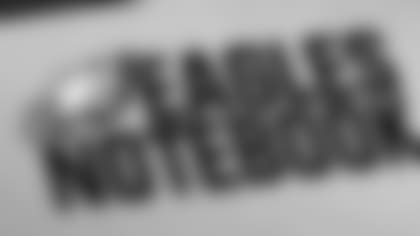 Turnovers Tonight ... The Eagles registered four takeaways in a game for the first time since 12/17/06, when the NY Giants committed four vs. Philadelphia at Giants Stadium.
Action Jackson ... WR DeSean Jackson caught five passes for 79 yards, including his first-career touchdown on a 22-yard pass from QB Donovan McNabb. Jackson also carried twice for 35 yards.
General Buckhalter ... In relief of an injured Brian Westbrook, RB Correll Buckhalter carried 16 times for 66 yards, caught two passes for 24 yards and scored on a one-yard touchdown run. It was his first time recording touchdowns in back-to-back games since 12/17/06 at NYG and 12/25/06 at Dal.
Big Game Hunter ... DE Trent Cole recorded a sack and forced a fumble on the same play. The fumble was recovered by LB Omar Gaither, resulting in an Eagles field goal. It was Cole's 7th career forced fumble and his second straight game with a sack. He now has 27.5 on his career, tying him with Darwin Walker for 14th place in team history.
Heads-Up play ... DE Darren Howard registered his 3rd career interception, and the first by an Eagles defensive lineman since 12/17/06 when DE Trent Cole intercepted an Eli Manning pass and returned it 19 yards for a touchdown at Giants Stadium. It was Howard's first interception since since 10/28/01 at StL., when he picked off Kurt Warner and returned it 37 yards. All three of his interceptions have come on the road.
Defensive nuggets ... S Quintin Mikell registered his third-career interception, all three of which have come in the Eagles end zone ... All three linebackers registered big plays. Omar Gaither and Stewart Bradley both recovered fumbles and Chris Gocong recorded his second career sack (both of his sacks have occurred on Sunday Night Football) ... DT Dan Klecko tallied his second sack as an Eagle, a career high ... DE Juqua Parker registered a sack for the second straight game, and has 3.5 during that span.
Birdseed ... T Jon Runyan played in his 132nd game as an Eagle, tying Pete Retzlaff and John Bunting for 18th place in team history. His false start penalty in the first quarter was his first penalty since a committing a false start on 12/4/06 vs. Car. ... QB Donovan McNabb played in his 122nd game as an Eagle, tying Randall Cunningham for second place among Eagles quarterbacks behind Ron Jaworski (142) ... CB Sheldon Brown became the seventh current Eagle to play in at least 100 regular season games ... LB Joe Mays played in his first-career game, becoming just the 10th player from North Dakota State to do so.