"She is hope personified."
That's how Lee Ann Hartley describes Kirsten Saraceni, the Administrator of Scientific Programs and Inclusion Initiatives for the Eagles Autism Foundation.
Essentially, Saraceni, better known as Kiki, helps people – a lot of people – in the autism community receive access to care and services that are not easily accessible.
Hartley's son, Max, hosts an eponymous YouTube series called Sensory Saturdays with Max. Born out of the pandemic, Saraceni had to figure out ways to engage virtually with the autism community. Max, who is on the spectrum, expressed an interest in doing interviews. The episodes are around 10 minutes each and feature how to make sensory items and crafts. Players and the Eagles Cheerleaders have made guest appearances.
"Initially, it wasn't expected to last that long," Saraceni jokes.
Two years later, Max recorded a video in the Eagles' studios to be played at the Huddle Up for Autism event on Sunday, April 3.
"I think from our first show up to now, he's definitely gained a lot of confidence in what he's doing and taking ownership of the show," Saraceni said. "We joke that it's his show, but I think that's really awesome to see. In the beginning, he was a little more shy. He would look to me for what to do next. Now, he's ready to go. If we have an activity, he tells me what materials we need and he kind of runs the flow of the show. I think that's been really awesome to see him kind of take ownership of that."
"Kiki's influence on Max was life-changing," Hartley said. "She made a path for Max to be successful on his own terms by guiding him through the opportunity to host Sensory Saturdays with Max. She is so much more than a therapist to us."
Growing up as a diehard Eagles fan in Lansdale, Pennsylvania, helping others has always been in Saraceni's DNA. Her best friend growing up had a younger brother on the spectrum and they always made sure to include him in activities, whether it was playing sports, riding bikes around the neighborhood, or trips to Wawa.
Little did Saraceni know that this special bond with her best friend's brother, whom she considers family, would offer a glimpse into her future.
A three-sport athlete at Mount Saint Joseph in Flourtown, Pennsylvania, Saraceni enrolled at St. Joseph's University and found out from a friend about a work-study program at the school's renowned Kinney Center for Autism Education and Support. Ryan Hammond was the Executive Director of the Kinney Center when Saraceni first started and instantly knew Saraceni was going to be a beacon for families affected by autism.
"It was easy to see out of a group of 100 that she was special immediately," Hammond said. "I watched her trajectory as she continued to gain more experience. She emerged as a leader really quickly. I saw her kindness and compassion and commitment to the families that was so evident.
"She didn't take a long time to learn how to navigate that human piece where you understand that you're dealing with someone with complex challenges, and how do you look at them as a person first and then not only that, how do you see what they could be and then help them achieve that. That was something for me with Kiki from the beginning that I saw as such a strength because she understood the person first. She looked at the challenges and saw them as opportunities to help this person live a full life."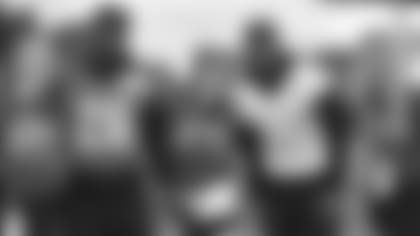 Hammond left the Kinney Center in 2017 to help launch the Eagles Autism Challenge and later the Eagles Autism Foundation. When Hammond looked to expand her team, her first phone call was to Saraceni.
"Knowing that autism inclusion was going to be a part of what we did at the Eagles, there was no other person who I thought would be better to help us build that than Kiki. I knew she could really help take our organization to the next level by providing resources, support, and that educational and training piece for us to open our doors and meet the needs of all abilities," Hammond said.
A board-certified behavior analyst and a licensed behavioral specialist, Saraceni joined the Eagles Autism Foundation in 2019 after earning her master's degree from St. Joseph's. Typically, someone with her background works in a school or a clinic or home setting, delivering therapy and working directly with families. However, the Eagles provided a bigger platform to make a bigger impact.
"It's definitely amazing to be able to see in just five years how much money the community and Eagles Everywhere have raised because the resources are just incredible and wild that they're able to dedicate that much money to autism research and grants," Saraceni said. "We have a ton of great hospitals and programs in and around Philadelphia. I think the Eagles can be the connector between all of those things."
Saraceni shares the vision that Hammond and Eagles Chairman and CEO Jeffrey Lurie have in that the City of Philadelphia can be the global center for autism research and care. That was never more evident than when Hammond received a call from a family struggling to get their children on the spectrum vaccinated during the pandemic. Unfortunately, pharmacies didn't offer a sensory-friendly space that made it comfortable for those with autism to get vaccinated.
After Hammond got off the phone, her first call was once again to Saraceni.
"We have this joint passion for making a difference in this community. I don't think there's anything we're afraid to go after or do. As ambitious as some of the things we've done, you feel confident when your team is strong and you feel like you'll figure it out because the families need it so desperately. You feel a responsibility there," Hammond said.
Saraceni leveraged the space at Lincoln Financial Field to provide families with what they needed. Over 1,000 people with autism and their caretakers were vaccinated.
One of them was her childhood best friend's brother.
"That was the truest example of having the platform of the Eagles able to make something happen quickly and efficiently," Saraceni said, noting that the vaccination clinic marked one of her favorite days with the organization.
The fifth annual Eagles Autism Challenge is just two months away. More than $12 million has been raised in the first four years. Saraceni works with Eagles Autism Foundation's external scientific advisor Dr. Emanuel DiCicco-Bloom to distribute money for research grants. She also vets local nonprofits in the autism space to award community grants. Within the Eagles organization, Saraceni leads the charge in increasing the neurodiversity of the staff by formalizing the onboarding process for employees on the spectrum, and creatively conceptualizing avenues for people with autism to be involved in marketing events like Junior Cheer clinics.
In many ways, it's getting people with autism involved in everyday activities, just like when she was a child. Just with a bigger platform.
"The reason I got so excited about it is it's a huge platform. You're able to make a huge impact with a ton of resources. I was excited about that opportunity to grow autism inclusion in the City of Philadelphia because I have a goal for us to become a hub of autism support in Philadelphia," she said.