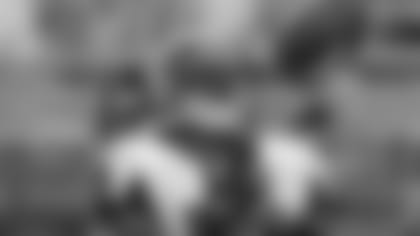 The Eagles' players were off from practice on Monday, but the team did announce the signing of wide receiver Freddie Martino, formerly of the Atlanta Falcons. The Eagles also released wide receiver John Harris and waived/injured defensive end Frank Mays due to a finger tendon injury.
Martino was originally signed by Atlanta as an undrafted free agent in May 2014 and spent much of his rookie season on the Falcons' practice squad. His ability was on full display in the Falcons' 2014 preseason finale against Jacksonville, as he blew by the defense for a 67-yard touchdown catch.
Prior to joining the Falcons, Martino was a four-year starter at Division II North Greenville. He tallied 3,766 yards and 26 touchdowns with the Crusaders, highlighted by his 2013 season in which he caught a Division II-record 146 passes.
Harris was signed by the Eagles as an undrafted free agent out of Texas this past May. Mays was signed by the Eagles as a rookie free agent in 2014, but was released before the end of Training Camp. He returned to the Eagles earlier this offseason.