The seeds of Tuesday's dual practice between the Philadelphia Eagles and New England Patriots were planted years ago, during Chip Kelly's time at the University of New Hampshire.
"I have so much respect for Chip and what he's done," Patriots head coach Bill Belichick said upon arrival at the NovaCare Complex. "We've been friends for a while and I know he does a great job with this football team and the program that he's run in Oregon and what he's doing here. I think it will be a good experience for our team to get to see some different people, different scheme.
"Chip's a New England guy, so we crossed paths from time to time in New England. We kept in touch over the past few years, and of course I have a lot of respect for what he's done with the program out in Oregon. I've had several conversations with him since he's taken over here in Philadelphia – owners meetings, (NF Scouting Combine), phone conversations, things like that. I just think he's a really solid coach and a solid guy. I've always had a lot of respect for him and I think he does a great job with his team."
Of course, the primary reason for the dual practices is that the two teams will play in their preseason opener on Friday night at Lincoln Financial Field. It also helps that they won't play each other in the regular season.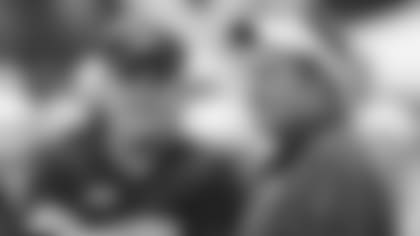 As for what actually took place on the field, the majority of reps went to the respective first and second teams. The reason behind that, Kelly explained, is that Friday night is likely to be heavy on backups.
"Obviously, when you play in your first preseason game, I would say our bottom part of our group is going to get more reps in that game than the first part of the game," Kelly said. "So if you get a chance to practice with them, I don't know how much we're going to see Tom Brady on Friday night. So chance to practice against someone like that in some real good competitive situations was a good test for us. So (we) just kind of did it that way. We thought the ones and twos would get more reps here in practice as opposed to the game on Friday."
Brady's brilliance was on display Tuesday as he completed nearly every pass during the offense-favored one-on-one drills between Patriots wide receivers and Eagles defensive backs. He also provided a stern test for an Eagles defense in transition during team drills.
"Obviously, one of the challenges against playing this team is you're playing against not only one of the top quarterbacks, but one of the top quarterbacks of all time," Kelly said. "That is the great thing with film. Our whole philosophy practice wise is let's just get it on tape and we can coach off of it. So I saw a couple guys make some plays. We had a couple of decent pass rushes at times, and a couple of times he picked us clean pretty good. So I think there was some give and take out there."
Eagles cornerback Cary Williams and Patriots wide receiver Aaron Dobson got into a skirmish during team drills, after which both players were sent to the sidelines for the remainder of practice - a pre-arranged agreement between the coaches according to Kelly.
Overall though, discounting the season-ending injury to , Kelly said the first day of the practices served as a successful step forward for the team.
"I liked it," he said. "It's probably at the right time too. We've been going against each other for a while now. It's good to see some different looks. It gives you an opportunity to gauge yourself because you know the talent level on their team and where we are at this point in time."