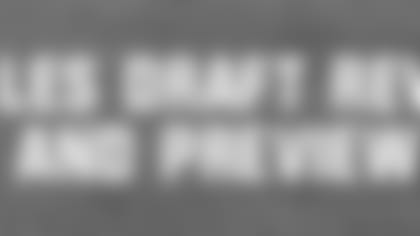 OVERVIEW **With one of the youngest and most talented in the league at the top of the depth chart in Stewart Bradley, the Eagles are stacked at the middle linebacker position.
Bradley was second on the team with 151 tackles in his first season as the starting middle linebacker. Bradley's performance earned an All-Pro nod from Sports Illustrated's Peter King.
The primary backup to Bradley is Joe Mays, who was inactive for most of the 2008 season. Nicknamed "The Headbuster," Mays solidified his spot on the roster with a dominating 12-tackle performance in the preseason finale a year ago. He made his NFL debut on special teams against the Bears in his hometown of Chicago.
To continue the theme of youth among the middle linebackers, Omar Gaither enters only his fourth season and will be focused on the weakside position. However, Gaither was the starter in the middle in 2007 and notched 170 tackles, 14 QB hurries and 14 pass knockdowns.
REVIEW
Andy Reid inherited Jeremiah Trotter from the Ray Rhodes era. A four-time Pro Bowl selection, Trotter kept the position fortified for most of the Reid era. When Trotter was in Washington, Reid utilized veterans like Levon Kirkland and Mark Simoneau.
Really, the three current middle linebackers are the only ones that Reid has acquired through the draft. Gaither was a fifth-round pick out of Tennessee in 2006. Bradley was a third-round selection out of Nebraska in 2008. Mays was a sixth-round pick a year ago.
What's interesting is that all three played different linebacker positions in college. Gaither was a strongside linebacker, as was Bradley. Mays played on the weak side at North Dakota State.
PREVIEW
Bradley is a playmaker on the rise. Gaither is trying to win back the weakside job from Akeem Jordan. Mays will have to fight for a roster spot, but will also battle for more playing time on special teams this upcoming season. Don't expect much action here in the draft, especially in the early rounds.