Here is a breakdown of the Top 10 middle linebackers available in the 2009 NFL Draft ...
1. James Laurinaitis, Ohio State
Ht: 6-2 Wt: 244 40-Yard: 4.72 Year: Sr.
Scouting Report: Laurinaitis has been a super-productive linebacker, and he projects well to the next level. He has the ability to be used at several linebacker positions in a number of defensive schemes, yet he is by no means an impact defender who forces the action or creates a lot of opportunities for his team. His playing skills on the field fall short of his reputation off it, and although Laurinaitis will be a good player in the NFL, he grades out as a late first-round pick.
2. Rey Maualuga, USC
Ht: 6-1.5 Wt: 249 40-Yard: 4.82 Year: Sr.
Scouting Report: Maualuga is a forceful defender who displays the ability to impact games. He offers potential at a number of inside or middle linebacker positions, and if he stays healthy and remains focused, he can be an immediate starter at the next level. If off-the-field issues do not distract Maualuga and he is focused on football, he will offer a team All-Pro potential.
3. Darryl Beckwith, LSU
Ht: 6-0.5 Wt: 232 40-Yard: 4.75 Year:Sr.
Scouting Report: Beckwith has been a real leader on the LSU defense and one of the more consistent linebackers in the nation. He gets the most from his abilities, and he consistently put himself in a position to make a play on the ball. Beckwith does not possess great upside, but he is a very consistent linebacker with starting potential for the next level.
Grade: Second or Third Round
4. Jasper Brinkley, South Carolina
Ht: 6-1.5 Wt: 252 40-Yard: 4.65 Year: 5-Sr.
Scouting Report:Brinkley looked like a star in the making after his junior season in 2006 but was set back by the knee injury the following season. He's best playing downhill and could effectively fill the inside linebacker position of a 3-4 alignment.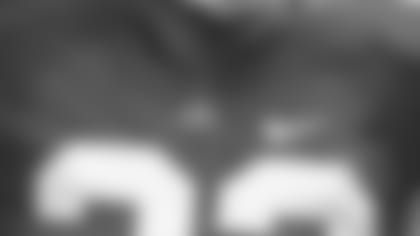 Ohio State's James Laurinaitis
5. Dannelle Ellerbe, Georgia
Ht: 6-1 Wt: 236 40-Yard: 4.67 Year: Sr.
Scouting Report: Ellerbe has been a solid player the past two seasons, even after being slowed by a knee injury last year. He is not considered a self starter by scouts, and is a defender who needs to be pushed. If Ellerbe pulls the pieces together and consistently plays at a high level, he could start at inside linebacker or perhaps on the weak side in a one-gap system.
6. Scott McKillop, Pittsburgh
Ht: 6-1 Wt: 244 40-Yard: 4.73 Year:5-Sr.
Scouting Report: McKillop comes off two outstanding seasons as one of the nation's top tacklers. He's a good football player, yet a marginal athlete and a linebacker who may be limited to certain systems. He would be best on the inside of a 3-4 alignment or could be used as a middle linebacker taken off the field on passing downs. While he lacks the great upside, McKillop also has limited downside risk to his game.
Grade: Third or Fourth Round
7. Antonio Appleby, Virginia
Ht: 6-3 Wt: 251 40-Yard: 4.71 Year:Sr.
Scouting Report: Appleby has been a terrific linebacker at Virginia, yet he is overshadowed by the many headliners in the program. He offers definite possibilities at the next level, and it would not at all be a surprise if Appleby develops into a starter on the inside of a 3-4 defense.
8. Gerald McRath, Southern Mississippi
Ht: 6-2 Wt: 231 40-Yard: 4.52 Year: 4-Jr.
Scouting Report: McGrath is a hard-charging linebacker who throws his body around the field to make the tackle. He's been very productive in the Southern Miss system, yet he will need to be protected at the next level. He maybe best on the inside of a 3-4 alignment due to his limitations in pass coverage.
9. Stanley Arnoux, Wake Forest
Ht: 6-0.5 Wt:232 40-Yard: 4.55 Year: 5-Sr.
Scouting Report: Arnoux has been a productive middle linebacker for Wake Forest the past three seasons, and he has been best playing downhill against the run. He turned in a terrific performance at the combine, and he will get a lot of looks as an inside linebacker in a 3-4 alignment, yet he must make his presence felt on special teams.
10. Frantz Joseph, Florida Atlantic
Ht: 6-1.5 Wt: 230 40-Yard: 4.73 Year: 5-Sr.
Scouting Report: Joseph is a physical linebacker whose play in run defense stands out. He's primarily a special teams prospect who could back up on the inside of a 3-4 defense where he would projects as a two down defender.
Grade: Fifth or Sixth Round