Now less than a month away from the 2013 NFL Draft, official visits and workouts are being reported left and right all around the NFL. As this stage of the draft process commences, let's take some time to look around the offensive side of the football, to get some analysis on prospects from around the country. For that, we consult our panel of NFL Draft insiders ...
Quarterback: Florida State's EJ Manuel
At the annual owners meetings in Arizona last week, head coach Chip Kelly confirmed to reporters that the team will conduct a private workout with Florida State quarterback EJ Manuel (who was covered in our Scouting Report series). A two-year starter, Manuel showed throughout his career that he has the physical skill set to be a successful NFL starter. There's a like to lot about Manuel, a quarterback who has great size, arm strength and natural athleticism. But where will he end up being drafted? Is he in play with the 35th overall pick in Round Two? We asked that question to CBS Sports' Rob Rang ...
"Considering how Robert Griffin III, Russell Wilson and, of course, Colin Kaepernick took over the NFL a year ago with their dual-threat abilities, it is only natural that Manuel - the most exciting multi-purpose quarterback of the 2013 draft class - would generate more buzz as the draft approaches. While some have latched on to his ascending stock, a closer look at his production at Florida State shows a quarterback who struggled with consistency, especially when asked to move past his initial read. Manuel has all of the physical attributes scouts are looking for. He is tough, intelligent and a natural leader. He'd be an intriguing option in Chip Kelly's offense and, as such, is well worthy of consideration at No. 35 overall."
Running Back: LSU's Spencer Ware
In last week's installment of Draft Buzz, it was noted that running back is not a position of dire need with LeSean McCoy and Bryce Brown on the roster. Will that keep the team from adding a back at some point on draft weekend? Or could another ball carrier be added to Chip Kelly's backfield? This week, we're taking a closer look at what some may call an under-the-radar junior from LSU in Spencer Ware. A physical tailback who split carries for the most part during his career in Baton Rouge, Ware could be an interesting option for any team looking for a second or third running back who can make an impact in certain packages. For a closer look at Ware, we consulted with Football Outsiders' Matt Waldman. Who does Waldman see when he watches Ware play? Let's find out ...
"Ware reminds me of Marion Barber because he has similar dimensions, runs with great pad level, is willing to deliver punishment and has the lateral agility to make cuts and spins to avoid defenders. This is something that I think some folks are missing when they watch Ware in action although he flashed this quickness against some of the best defenses in the SEC.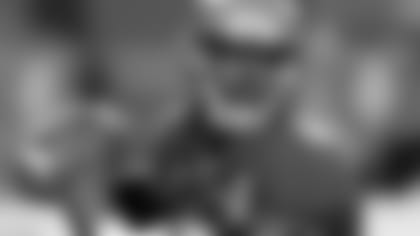 "Punishing is the word that epitomizes Ware's game. He's an aggressive hitter as a blocker and can deliver a hard punch. He often gets under the skin of defenders for his intensity of play. One aspect of his third-down game that was not used enough at LSU is his skill as a receiver. Ware was a former high school wide receiver and it showed when he was targeted in rare instances. I've seen him make strong adjustments in tight coverage with his back to the quarterback in the red zone and he'll be a fine outlet player on screens, swings and flat routes. He has reasonably low mileage as a junior who split time at LSU with several backs. I think he's one of the more underrated talents in this running back class and he's a surprise top 10 back on my board although I realize he isn't likely to hear from the NFL until at least the third day."
Wide Receiver: Marshall's Aaron Dobson
One interesting recent Pro Day performance came from a receiver down at Marshall, where former Thundering Herd star Aaron Dobson worked out for the first time after not going through drills at the NFL Scouting Combine due to injury. The Eagles were reportedly on hand for the workout, where Dobson (6-3, 210 pounds) reportedly ran in the low 4.4's in the 40-yard dash and caught the ball well in drills. Dobson, who made one of the most ridiculous catches ever, didn't particularly stand out at the Senior Bowl, but has the physical tools to develop into an effective option at the next level, particularly in the red zone. How does he stack up in this wide receiver class? We asked that question to NFL Draft Bible's Joe Everett ...
"Dobson is a stout possession receiver with exceptional ball skills and outstanding footwork for his size which is why he'll be one of the first 10 players drafted at his position. He is more than likely a second-day selection by a team in need of a big Z receiver who can make plays in tight quarters and on heavily contested passes. He has less than ideal hand size (8.5 inches) and comes from more of a simple spread offense, but he is very adept at creating space from defenders as well as possessing a knack for converting in jump ball situations. Dobson could develop into a long-time starter at the next level which puts him in the discussion with receivers like Robert Woods, Justin Hunter and Markus Wheaton in Rounds 2 and 3."
Tight End: Rice's Vance McDonald
It was reported earlier this week that the Eagles were worked out former Rice tight end Vance McDonald, one of the top players at his position in the draft class. McDonald is known for his superior athleticism, especially considering his size. While he has been inconsistent catching the football and has a lack of extended experience as an in-line player, he is expected to be a second-day selection by most on draft weekend. How has McDonald helped himself throughout the draft process? Where does he fit in the tight end pecking order? We asked Optimum Scouting's Eric Galko that very question ...
"After the hype leading up to and through the Senior Bowl process, McDonald emerged as a top 10 tight end in this already-loaded class, and for good reason. The physically imposing, well-built prospect showed off versatility on film while at Rice, being used as an in-line tight end, in the slot and as an X receiver. That versatility, combined with his well-built frame, short-area athleticism in his routes and after-the-catch ability, is what makes him a potential top 100 pick. However, concerns regarding his ability to extend away from his frame in traffic and finishing catches have to do with why Optimum Scouting graded him as a fourth- or fifth-round prospect."
Offensive Line: Alabama's Barrett Jones
Easily one of the best stories in this year's NFL Draft belongs to Alabama offensive lineman Barrett Jones, a player who has started on three National Championship teams with the Crimson Tide at three different positions. Jones has won the Outland Trophy (best offensive lineman in the country) and Rimington Trophy (best center in the country) on separate occasions. Jones' versatility has been well-documented and he proved his toughness in 2012 when he played a majority of the season with a Lisfranc injury and still performed at a high level. In the end, though, where does Jones rank among this year's extremely talented offensive line group? We talked to Draft Insider.Net's Tony Pauline about that very subject ...
"When talking about the top offensive linemen in the 2013 NFL Draft the names of Luke Joeckel, Eric Fisher, Chance Warmack and Jonathan Cooper quickly roll off the lips of experts. The prospect people often forget to mention, and possibly the most underrated blocker in this draft, is Barrett Jones.
"The All-America lineman started at guard and left tackle early in his Tide career before moving into center last season and watching his game take off. Jones plays smart, tough football and uses all his abilities to knock opponents from the play. He's terrific on the line of scrimmage yet also effective removing linebackers from the action on the second level. His performance during the SEC title game against Georgia's talented defensive front seven was later surpassed by his showing against Notre Dame for the national crown. In both instances, Jones manhandled higher-rated defensive tackle/nose tackle prospects (Jon Jenkins of Georgia and Louis Nix of Notre Dame) to protect quarterback A.J. McCarron and open the running lanes for Eddie Lacy.     
"His substance and style is similar to New York Jets All-Pro center Nick Mangold and Jones has the ability to productively play on the NFL level for years to come."