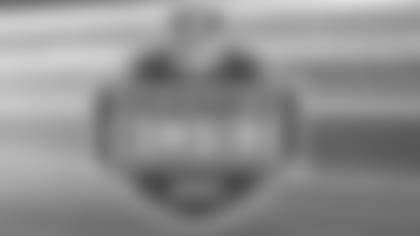 With Andy Reid's penchant for offensive linemen, the possibility of having two starting tackles hit free agency and two first-round draft picks as ammo there seemed absolutely no way that the Eagles would not use one of those picks on a franchise tackle. Especially since there are four to five first-round quality offensive tackles in this draft with a potential for two of them being available when the Eagles are on the clock for the first time at No. 21.
But there is a chance the Eagles will not use one of those picks on an offensive tackle. Les Bowen from the *Philadelphia Daily News *chatted with Reid on Friday and wrote that Reid "would not commit" to the idea that the Eagles need to use a high pick on an offensive tackle. First of all, Reid intimated that one of those free agents, Tra Thomas, would likely be re-signed within the next week. Second, Reid said that he had a pair of guards in Shawn Andrews and Todd Herremans who were originally drafted with the idea they would eventually slide outside.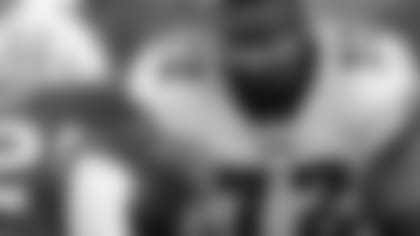 Published reports indicate that Tra Thomas could be re-signed within the next week
What could the Eagles starting offensive line look like in 2009? Could it be - from left to right - tackle Tra Thomas, guard Todd Herremans, center Jamaal Jackson, guard Nick Cole and tackle Shawn Andrews? Or maybe Thomas, Cole, Jackson, Andrews, Herremans? I'll wait to see how Max Jean-Gilles bounces back from his rehab before I slide him in a starting role. In my opinion, I thought Jean-Gilles was starting to come on strong when he got injured. But overall, I thought Cole did a better job this year than Jean-Gilles.

What if Jackson is challenged in the off-season? What if Mike McGlynn is ready to move up the depth chart? Maybe Thomas, McGlynn, Cole, Andrews, Herremans?

Very, very interesting. Even if Thomas is re-signed, I would at the very least think that the Eagles will draft a project tackle who could be ready when Thomas' new contract (assuming, uh oh, that it happens) would expire. But maybe the Eagles are high on King Dunlap?

And if the Eagles don't use a first-round pick on a tackle, what positions would they target? Quarterback - I seriously doubt it (though I've been wrong on this one. See Kolb, Kevin.) Running back - there is a need there, so it's a possibility depending on who is available here. Tight end - If Brandon Pettigrew is on the board, I'd do it. But otherwise, I don't believe there is a first-round quality tight end available.

Could the defense be addressed? The defense, to me, is at a point where you strengthen in free agency assuming there are quality pieces there. Dave Spadaro's column on the defense should open your mind to the possibility of changes. The defense was the third-best in football and was very dominant down the stretch until the NFC title game. Interesting tidbit thrown at me by a reporter here at the Combine. Jim Johnson's inability to coach on the sideline because of his bout with melanoma may have kept the Eagles from making instant adjustments to the myriad of things being thrown at them by the Cardinals. The Eagles were finally able to make those adjustments in the second half and we all saw the difference.

Is there a position that is getting older on the defensive side? The Eagles need to find a more definitive answer at end opposite Trent Cole. Bryan Smith could be it, but we don't have any clue there. Victor Abiamiri showed potential, but he needs to stay healthy.

Defensive tackle? Before you throw your mouse against the wall, hear me out on this one. Last year, the Eagles used a three-man rotation at the tackle spot. Mike Patterson has evolved into quite a player. Same for Brodrick Bunkley, but the Eagles have to determine whether to make a long-term commitment to him - he's under contract through 2011. Trevor Laws should grow in his second year. However, Amon Gordon could be a steal of a pickup off the waiver wire.

Linebacker? What if the Eagles want to challenge one of the positions?

I would say you could add something at safety since the popular opinion is that Sean Considine is going to get a starting job in free agency. But it's not a strong draft class at safety. Cornerback? I think the status of Jack Ikegwuonu will factor heavily into it.

Who knows what will happen on April 25-26? Every possibility is open. Don't assume the Eagles are going to use a first-round pick on a tackle. They could, but it looks like there are more plates in the cupboard than we may have thought.