LeSean McCoy and Wilbert Montgomery, two great running backs whose careers are about to intersect in the Eagles' record book, were very different.
For one thing, LeSean has a sweet nickname - Shady. Wilbert didn't have a nickname. He was just Wilbert, plain and simple.
LeSean likes to talk. Wilbert said as little as possible.
LeSean carries himself with a swagger. Wilbert was unassuming.
LeSean is uptown. Wilbert was down home.
One led the Eagles to a Super Bowl, the other has them moving in that direction. At the moment, they are separated by just 47 yards rushing. Wilbert rushed for 6,538 yards in his eight seasons with the Eagles. LeSean has 6,491 after rolling up 159 yards against Dallas on Thanksgiving.
LeSean may pass Wilbert this Sunday and if he does, the setting will be suitably grand. He will set the record against the defending Super Bowl champions, the Seattle Seahawks, who merely have the NFL's No. 1 defense. He will do it at home before Eagles fans and a national TV audience. It will be a stage worthy of such a moment.
When Wilbert set the club rushing record in September 1984, it was done in low-key fashion. That was at Wilbert's request.
The team wanted to stop the game when he broke the record held by the great Steve Van Buren (5,860). They wanted to present him with the ball and have him take a bow. Wilbert said no. He didn't want to interrupt the game and make all the other players stand around while the Veterans Stadium crowd gave him a standing ovation. He didn't want the attention. It wasn't his style.
So when Wilbert passed Van Buren that day against the Minnesota Vikings, the team flashed the news on the Phanavision scoreboard. Referee Jim Tunney handed him the football and Wilbert immediately flipped it to the equipment manager. No curtain call, no speech, no prolonged ovation. It was a perfect snapshot of the man himself.
"The most important thing," he said later, "was we won the game."
With Wilbert, the team always came first. In that sense, he embodied the ethic of coach Dick Vermeil. He scored 76 touchdowns at Abilene Christian, an NCAA record at the time, but he missed 11 games due to various injuries. Most NFL teams looked at that thick medical file and took him off their draft board. The Eagles were able to find him still available in the sixth round. It was like finding a diamond in a Cracker Jack box.
Wilbert almost quit the team in his first Training Camp. A shy kid from Greenville, Miss., he was overwhelmed by the big city and overwhelmed by the prospect of playing in the NFL. He was intimidated by Vermeil who ran the toughest Training Camp in the league. He actually had his bags packed one night and his roommate, another rookie named Cleveland Franklin, talked him out of leaving.
"Wil," Franklin told him, "you're the best back in camp."
So he decided to give it another day. That day became eight seasons and when it was over, he held the club record for career rushing attempts (1,465) and yards as well as the record for rushing yards in a season (1,512 in 1979). But his real greatness wasn't so much in the numbers, but in the price he paid to achieve them. His toughness was simply amazing.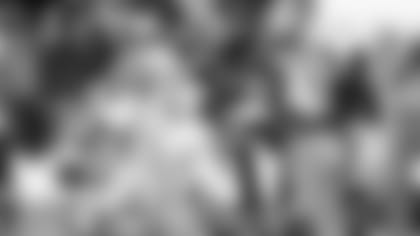 After spending his rookie year as a kick returner, Wilbert became a heavy duty back in his second season. He carried the ball a ton and took an enormous amount of punishment. If you wanted to talk to Wilbert after a game, you had to wait at least an hour, sometimes longer, for him to emerge from the training room. It took that long for trainer Otho Davis to piece him back together.
In 1980, he played hurt all season. He bruised his hip in St. Louis, tore a groin muscle in Washington, strained his knee in Dallas and bruised his thigh in the playoff win over the Vikings. There were bits and pieces of him all scattered across the landscape and as the Eagles prepared for the NFC Championship Game, no one knew how much still remained.
Linebacker John Bunting recalls walking in the training room that morning and seeing Wilbert already stretched out on the table while Davis massaged his bruised thigh.
"I never had a doubt he would play," Bunting said. "Wilbert has the heart of a lion."
Of course, we all know what happened on that bitter cold day. On the Eagles' second play from scrimmage, Ron Jaworski handed the football to Montgomery who started left then cutback and sprinted 42 yards to the end zone.
"It looked like someone shot Wilbert out of a cannon," linebacker Bill Bergey said. "I knew right then we couldn't lose."
Wilbert finished the day with 194 yards rushing, two short of the NFL postseason record set by Van Buren in the 1949 NFL Championship Game. It would have been a remarkable performance for anyone, but it was even more impressive given the pain he must have played through.
"I wasn't 100 percent," he admitted, "but good enough. I knew once I got the adrenaline flowing, it could overcome a lot of things."
LeSean McCoy may pass Wilbert Montgomery in the record book, but no one will erase his memory from Eagles history or the heart of the Philadelphia fans. He said very little, but on the field he sure made a lot of noise.
An award-winning writer and producer, Ray Didinger was inducted into the Pro Football Hall of Fame in 1995. He has also won six Emmy Awards for his work as a writer and producer at NFL Films. The five-time Pennsylvania Sportswriter of the Year is a writer and analyst for Comcast SportsNet. Didinger will provide Eagles fans a unique historical perspective on the team throughout the season for PhiladelphiaEagles.com. You can read all of his Eagles History columns here. He is also the author of The New Eagles Encyclopedia, the perfect gift for any Eagles fan this holiday season. Meet Ray this Saturday at the Towne Book Center and Café at 4 PM in Collegeville, Pa.