If you did not see "A Football Life: Randall Cunningham" on the NFL Network Tuesday night, you really need to track it down. It is a marvelous one hour show that chronicles Cunningham's football career and the many changes in his life. He now devotes himself to his family and his faith serving as the pastor of a church in Las Vegas. At 50 years old, he seems happy and at peace which is nice to see.
The show, produced by Peter Frank of NFL Films, documents the many phases of Cunningham's career - his off-the-radar college career at UNLV, his arrival in Philadelphia, his rise to stardom accompanied by a swelling of the ego which strained relations with his teammates, his injuries and decline, his year out of football and his resurrection with the Minnesota Vikings. It is a lot to pack into one hour.
But more than just reflecting on the past, the show asks a fascinating question: What if Randall Cunningham came into the NFL today in this era of the read-option offense? Let's take it one step farther: What if Chip Kelly had a young Randall Cunningham? What would the Eagles offense look like?
This might seem like an odd time to ask the question with Nick Foles coming off a seven-touchdown game, but it is hard not to think about it after watching an hour of Cunningham highlights. Several people interviewed in the show came right out and said it: If Randall brought his skill set to the NFL today, he would be the best of the read-option quarterbacks. Better than Robert Griffin III. Better than Colin Kaepernick. Better than Russell Wilson. Better than Mike Vick. Better than all of them.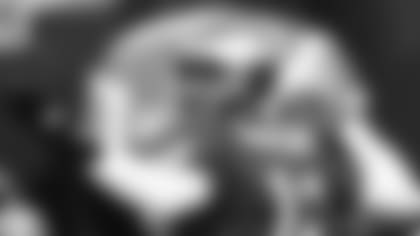 Of course it is just fanciful speculation, we have no way of knowing or proving anything. But watch the show, see Cunningham with the ball in his hands, running away from defenders and throwing 60-yard spirals, and you cannot help thinking No. 12 was a player ahead of his time. I know this much: It would have been fun to watch.
Cunningham wasn't quite as fast as RGIII, but he was more elusive. Cunningham did not have as much velocity on his fast ball as Kaepernick, but he threw a better deep ball and had better touch. In the read option, Randall truly would have been The Ultimate Weapon as Sports Illustrated once proclaimed him.
I was interviewed for the NFL Network show so I did a little homework. I covered all 11 seasons Cunningham played in Philadelphia so I knew him pretty well, but when I went back over the statistics and saw the films again I was reminded just how good he was.
In his first four seasons as the Eagles starting quarterback, 1987-90, Cunningham led the Eagles in rushing all four seasons. That's remarkable enough, a quarterback leading his team in rushing four years in a row. It doesn't happen, not in the NFL, but Cunningham did it. But, OK, we knew he could run. Let's take that out of the equation. Let's just focus on his passing.
In those same four seasons, only one other NFL quarterback completed more passes than Cunningham and that was Dan Marino. Only two other quarterbacks threw for more touchdowns: Marino and Joe Montana. I'll admit, I was surprised when I saw those stats. Cunningham's passing numbers were huge. In 1990, when he was named the league MVP by the Pro Football Writers Association, he threw 30 touchdown passes and just 13 interceptions.
It is a shame Cunningham wasn't coached better in those early years. It is well known that Buddy Ryan's idea of coaching Randall was to say: "Go make five big plays, the defense will take care of the rest." If Cunningham had been better schooled in those early years and developed a better understanding of the game, he probably would have been more consistent and he might have had more success in the postseason when he faced the top defenses.
We saw how well Cunningham played in the second chapter of his career when he signed with Minnesota, replaced the injured Brad Johnson and went on to win league MVP honors from the Maxwell Club. The year he spent away from the game, installing granite countertops, rekindled his competitive juices. He was burnt out on football when he left the Eagles, but in the year away he realized he missed it. When he signed with the Vikings, he was grateful to be back and he was more receptive to coaching. He also had the benefit of a very good offensive coordinator in Brian Billick.
As Billick said, "Randall was a different player and a different person" when he came back. He was 35, more mature and not caught up in being a star. He was happy just to be playing and he was surrounded by dynamic playmakers Cris Carter, Randy Moss, Robert Smith and Jake Reed. He had three Pro Bowl linemen blocking for him. Unlike in Philadelphia, he didn't have to carry the offense, he just had to do his part which he did beautifully. The Vikings scored 556 points in 1998, a league record at the time.
The other thing Cunningham demonstrated that season - which he demonstrated throughout his career - was his toughness. That year he injured his knee and underwent arthroscopic surgery, but he lined up and started the next game six days later. I always thought that was the thing Randall never got enough credit for. He was a very tough guy. He was sacked 422 times in his 11 seasons with the Eagles. Add in the 677 rushing attempts and that's a lot of hard landings on the Vet Stadium carpet, but I never heard him complain.
Yes, it's too bad we'll never get to see Rambling Randall run the read option.
If you see the NFL Network documentary, you will see film clips of Randall Cunningham, Jr., playing quarterback for his high school team. Watching another No. 12 turn the end and run away from defenders, it makes you think that maybe we will get to see it after all.
An award-winning writer and producer, Ray Didinger was inducted into the Pro Football Hall of Fame in 1995. He has also won six Emmy Awards for his work as a writer and producer at NFL Films. The five-time Pennsylvania Sportswriter of the Year is a writer and analyst for Comcast SportsNet. Didinger will provide Eagles fans a unique historical perspective on the team throughout the season for PhiladelphiaEagles.com. You can read all of his Eagles History columns here.