That's what Jerry Wolman would say to anyone who called him "Mr. Wolman." It didn't matter if it was a player, an office worker, a reporter or a fan. Anyone who approached the former Eagles owner was told, "Call me Jerry." He was a rich guy who never acted rich.
Wolman, who died Tuesday at the age of 86, bought the Eagles for $5.5 million in December, 1963. He owned the team for just five years before selling to Leonard Tose in March, 1969. Wolman did not want to sell - indeed, he said it was the biggest disappointment of his life - but he had no choice. A series of financial setbacks left him staring at bankruptcy.
It was a sad ending to a rags-to-riches, only-in-America success story. As a boy, Wolman hitchhiked 100 miles from his home in Shenandoah in upstate Pennsylvania to watch the Eagles play. He was a high school dropout who worked in his father's fruit business and through sheer hustle and persistence built a successful career in real estate and construction.
He was 36 when he bought the Eagles making him the youngest owner in the National Football League. His worth at the time was a reported $36 million. He owned a dozen office buildings and apartments in the Washington, D.C., area. None of it, however, gave him the same thrill as owning the Eagles. He described himself as a kid with "a new toy."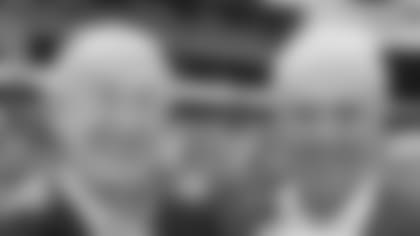 At his first Training Camp, Wolman ran around the practice field in Hershey, Pa., in an Eagles T-shirt and low-cut football shoes, catching passes with the receivers. He shagged punts, jogged laps with the coaches and shook the hands of every fan who came to watch.
"Nice to see you," he would say. "Thanks for coming."
And always, "Call me Jerry."
Wolman was a gregarious guy who always seemed to have a smile on his face. Well, almost always. One day the Eagles scrimmaged the Washington Redskins in Hershey and some Redskins fans were heckling the Eagles. Wolman came down from the press box and dove into the crowd to take on the hecklers. Wolman was outnumbered, but he didn't care. He was still throwing punches - and taking his share - when the Eagles coaches rushed in to save him.
An NFL owner would get fined for that today. But in Philadelphia, it would make him a folk hero.
A personal memory: My father, mother and I went to Hershey every summer to watch the Eagles practice. In 1964, Wolman's first year as owner, we were in the lounge at the Cocoa Inn one evening watching the College All-Star Game on TV. The room was packed and Wolman came in with several coaches. The Eagles had two draft picks in the game - tackle Bob Brown and quarterback Jack Concannon - and Wolman wanted to see them in action.
Wolman went around the room and said hello to everyone. He stayed until halftime and shortly after he left, a man came in with a stack of pizzas. He put one on every table and said, "Compliments of Mr. Wolman." I mean, who wouldn't love a guy like that?
Wolman was all boyish enthusiasm - he once referred to himself as "a babe in the woods" - and while there was a charm to it, it also got him in trouble. The worst example was his decision to sign Joe Kuharich to a 15-year contract as coach and general manager on the basis of a 6-8 finish in 1964. Wolman saw it as such an improvement over the 2-10-2 record of the previous year that he felt Kuharich merited the longest and largest ($900,000) contract in professional sports.
It proved to be a disaster. The Eagles had only one winning season under Kuharich - a 9-5 finish in 1966 - and by 1968 they were in free fall and the fans were screaming "Joe Must Go." Wolman's financial empire was collapsing at the same time. Construction delays stalled his biggest project - the $50 million John Hancock Center in Chicago - and he ran out of time and money. He had other holdings including the Spectrum and Yellow Cab, but it was not enough to offset the crushing losses in Chicago.
Wolman made frantic attempts to secure loans from various banks, but it was no use. The only way he could stave off bankruptcy was to sell his most valuable asset, the Philadelphia Eagles. On March 1, 1969, he met with Leonard Tose and after 14 hours huddling with the lawyers, the deal was done. Wolman sold the team to Tose for $16.1 million.
"I've been fighting this thing for some time," Wolman said. "This is a day I never thought for a second would come. But I had no choice. It's here."
When Wolman met the press that night, he remained gracious despite not having slept in days. He was described as "pale and nervous with the hint of a five o'clock shadow," yet he managed a smile and said: "When I saw the expression on Leonard's face tonight, I remembered how I felt when I bought the Eagles."
The love Wolman felt for his football team never died. In January, 1981, when the Eagles went to their first Super Bowl, Wolman, who was then back on his feet financially, attended the game wearing Eagles green. He was interviewed at the game by Bill Fidati of the Philadelphia Bulletin.
"Philadelphia is still my favorite city," said Wolman, who was then living in Bethesda, Md. "I would think that some day I will try to get back. Though I'm not involved in football or the city, I still feel a part of them. I'm happy about the accomplishments I had while in Philadelphia. I did have the Eagles, I helped bring the Flyers there and had the Spectrum built.
"What do I miss about the city?
An award-winning writer and producer, Ray Didinger was inducted into the Pro Football Hall of Fame in 1995. He has also won six Emmy Awards for his work as a writer and producer at NFL Films. The five-time Pennsylvania Sportswriter of the Year is a writer and analyst for Comcast SportsNet. Didinger will provide Eagles fans a unique historical perspective on the team throughout the season for PhiladelphiaEagles.com. You can read all of his Eagles History pieces here.