Black Monday came late in 1983. Typically, when NFL coaches either step down or are shown the door, it happens the day after the final regular season game. For Dick Vermeil, Black Monday came one week later.
The Eagles concluded a bitterly disappointing, strike-shortened 1982 season with a 3-6 record. They lost their final game to the New York Giants on January 2 in a gloomy Veterans Stadium. The locker room was strangely quiet afterwards. The moment I'll always remember is Vermeil seeking out cornerback Herman Edwards, embracing him and walking away without saying a word.
At first, I thought it was just a weary coach sharing a moment with a veteran player. As it turned out, it was Vermeil saying goodbye.
It wasn't until the following Monday that the announcement was made: Vermeil was resigning as head coach after seven seasons. At the press conference, he admitted he wrestled with the decision for a week. Owner Leonard Tose tried to talk him out of it. Vermeil went back and forth.
Finally, he told his wife Carol: "I can't make a decision."
She said: "If you can't, I can. We're getting out."
As Vermeil said later: "She put the cap on the bottle."
On Monday, January 10, Vermeil walked into a crowded press room at the Vet and announced: "I'm physically and emotionally burned out."
It was shocking in some ways, not so shocking in others. At 46, Vermeil was still a young man, but anyone who was close to the team knew the strain he was under. The stories about him sleeping in his office four nights a week and watching film until 3 or 4 in the morning were legend. His assistant coaches loved him but they often rolled their blood-shot eyes when asked how things were going. There was no time for life outside of football.
The Eagles made it to the Super Bowl in Vermeil's fifth year but they faltered down the stretch the following year, losing five of their last six games including a Wild Card playoff to the Giants. The 1982 season was shut down for two months by a players' strike and when it ended, the chemistry of the team was never the same. By the end of the season, players could see Vermeil unraveling.
"Dick was always emotional but this was different," tackle Stan Walters said. "It wasn't unusual for him to get choked up talking to the team. We had seen that before. But that year it just seemed to come out of nowhere. He'd start talking and the next thing you knew he had tears in his eyes. We were like, 'What's going on?'"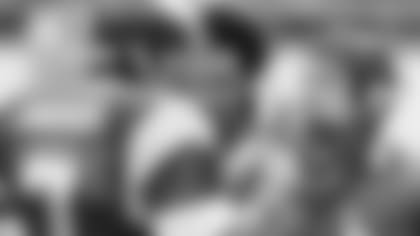 The term "burnout" is commonly used now but it was unfamiliar 30 years ago. Vermeil may well have introduced it, at least in a sports context. But it was an apt description of what he was feeling after seven years of pushing himself to the point of physical and emotional exhaustion.
"I don't want to sound like I'm going off my rocker or anything like that," Vermeil said that day. "The kind of person I am, I'm my own worst enemy. I'm far too intense, far too emotional, probably invested far too much in trying to do something to win. Those three things together just catch up to you and burn you out.
"What leads to burnout more than anything is trying so hard to do a job that you lose perspective in terms of how many hours of sleep, how many days of relaxation you should include in a monthly routine. But I cannot turn off my responsibility. There is no valve that says quit thinking about football. I get overly concerned about everything. I've always been that way. I was consumed by the game even when I was a high school coach.
"Twenty-three years of coaching with the same personality gradually caught up with me."
Wilbert Montgomery attended Vermeil's farewell press conference. The Eagles' star running back stood quietly in the back of the room and watched as the coach who brought him into the NFL announced he was leaving. I asked if he was surprised. He shook his head.
"I think we all knew something was going on," Montgomery said. "The last month or so, he wasn't like he used to be. You could tell there were a lot of things on his mind. The losing ate him up inside."
I asked Montgomery if he could envision Vermeil coaching again.
"Yes, absolutely," he said.
"He's a coach," Montgomery said. "He'll come back because that's who he is."
Of course, Vermeil did come back. It took awhile - 14 years to be exact - but he returned to coach the St. Louis Rams. In the 1999 season, he led the Rams to victory in the Super Bowl. And you know who was on his coaching staff? Wilbert Montgomery.
Funny, isn't it, how things work out?
An award-winning writer and producer, Ray Didinger was inducted into the Pro Football Hall of Fame in 1995. He has also won six Emmy Awards for his work as a writer and producer at NFL Films. The five-time Pennsylvania Sportswriter of the Year is a writer and analyst for Comcast SportsNet. Didinger will provide Eagles fans a unique historical perspective on the team throughout the season for PhiladelphiaEagles.com. You can read all of his Eagles History columns here. He is also the author of The New Eagles Encyclopedia.