Joe Lavender didn't look like anyone else on the football field. At 6-4 with long, spidery arms, he looked more like a basketball player than an NFL cornerback. He also was the only player in the league who wore horn-rimmed glasses behind his face mask.
In high school, he acquired the nickname "Bird" because, he once explained, "I could leap over people. You know, like a bird, like a plane." By the time he arrived in Philadelphia in 1973, Sesame Street was all the rage, so people began to call him "Big Bird" which seemed like a fit.
The Eagles selected him in the 12th round of the draft, the 288th player chosen. Scouts didn't know much about him because he only played two years of football at San Diego State. He originally enrolled on a basketball scholarship but switched to football after spending one semester doing missionary work in Samoa.
Thanks to his basketball background, Lavender excelled at man-to-man coverage. He spent two seasons covering the likes of Sidney Wicks, Phil Chenier, and Ed Ratleff on the hardwood, so staying with most college receivers didn't pose much of a challenge. The Eagles knew they had something early in Training Camp when Lavender was swatting passes away from 6-8 Harold Carmichael.
"Joe still has a lot to learn," head coach Mike McCormack said, "but with his size and long arms, he can do a lot of things."
The plan was for Lavender to play a backup role as a rookie and learn the nuances of pro football. But a month into the season the Eagles were winless and the defense was getting shredded, so McCormack released veteran corner Nate Ramsey and promoted Lavender to the starting lineup.
"It shook me up a little," Lavender said. "I thought I'd backup Nate and Al (Nelson, the other cornerback) this first year. I figured I could handle that because the pressure wouldn't be on me from the start. But when they let Nate go and I knew I'd be the guy stepping up, it tightened me up. Even in practice, I'd lay back. I was afraid to go for the ball because I didn't want to give up the big play.
"But the coaches kept telling me, 'Be aggressive. Play your game.' They were right. The receivers in this league are so good, you have to challenge them. If you lay back, they'll beat you all day. I figured if I could guard Phil Chenier, I could guard anybody in any sport."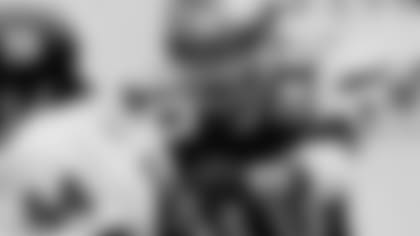 Lavender improved steadily and by his second season, he was establishing a reputation as a big-play defender. In the second game of the regular season, he scooped up a Dallas fumble and returned it 96 yards for a touchdown to spark a 13-10 upset of the Cowboys. It set a record for the longest fumble return in team history and it gave the Eagles their first Monday Night Football victory at Veterans Stadium.
"I remember it like it was yesterday," said Bill Bergey, the middle linebacker who forced the fumble with a big hit on rookie running back Doug Dennison. "I hit Dennison, the ball came loose, and Bird was right there to pick it up. He had a clear path down the sideline. The only one chasing him was Roger (Staubach) and I was thinking, 'Bird, you'd better not let a quarterback catch you from behind.' We never would've let him forget it."
Lavender also scored a touchdown on an interception return that season. The next year, 1975, he had three interceptions and another touchdown. At that point, he felt like he was due for a big raise. The Eagles got him at a bargain rate as a 12th-round pick. Going into his fourth year as a starting cornerback, Lavender wanted to be paid.
The trouble was Dick Vermeil had replaced McCormack as coach and he made it clear he expected every player to be there when Training Camp opened in early July. Lavender sent word through his agent that he wasn't reporting until the team gave him a new deal. Vermeil made it clear he wasn't going to play that game. He told Lavender to report or else. Lavender didn't show up so Vermeil traded him to Washington for defensive tackle Manny Sistrunk.
"These guys have to learn who's calling the shots around here," Vermeil said.
Vermeil made his point, that is, he wasn't one for idle threats. If the players didn't realize it before they realized it when they saw Lavender's name scratched off the Training Camp rooming list. Judged on football terms, it wasn't a good deal for the Eagles. Sistrunk was 29 years old, a swing tackle who played four seasons in Philadelphia. Lavender, however, flourished in Washington.
Lavender played seven seasons with Washington and twice was voted into the Pro Bowl. He missed only two starts in his first six seasons in Washington and led the team with eight interceptions in 1976. He quickly became a favorite of coach George Allen who paired him with veteran Pat Fischer at cornerback. It was a Mutt and Jeff combination with the lanky Lavender playing one side and the 5-9 Fischer playing the other. In their first season together, they combined for 13 interceptions.
"I don't measure them, I just play them," Allen said of the two cornerbacks. "Lavender and Fischer are always around the football. They don't make mistakes. You win with players like that."
Lavender's final season was 1982 under coach Joe Gibbs and his last game was Super Bowl XVII which Washington won 27-17 over Miami. He left the game with 33 career interceptions and a Super Bowl ring – not bad for a 12th-round draft pick.
"Growing up the sport I loved best was baseball and I went to college to play basketball, but I wound up playing football and winning a Super Bowl," Lavender said. "Funny, isn't it, how life works out."
An award-winning writer and producer, Ray Didinger was inducted into the Pro Football Hall of Fame in 1995. He has also won six Emmy Awards for his work as a writer and producer at NFL Films. The five-time Pennsylvania Sportswriter of the Year is a writer and analyst for NBC Sports Philadelphia. Didinger will provide Eagles fans a unique historical perspective on the team throughout the year for PhiladelphiaEagles.com. You can read all of his _Eagles History columns here_. He is also the author ofThe Eagles Encyclopedia: Champions Edition which is in bookstores now.