Every career is filled with defining moments. Some are instances of triumphs, while others allow opportunities for growth. When Doug Pederson was named the 23rd head coach of the Philadelphia Eagles, he agreed to embark on a new journey where he will be faced with a number of challenges.
Although a first-time head coach, Pederson knows the ups and downs of the football world and life in the NFL. He's been through it all before during his days as a player, and those memorable times have ultimately led him down the path toward becoming a head coach.
November 14, 1993: Shula Becomes NFL's Winningest Head Coach
Signed as a rookie free agent by the Dolphins in 1991, Pederson worked his way onto the active roster in 1993 and helped Miami secure a 19-14 road win over the Eagles, which remains one of the Dolphins' most historic wins to this day. The victory marked Don Shula's 325th and made him the winningest head coach in NFL history.
An injury to Scott Mitchell meant it was Pederson's time to lead the offense late in the third. He took the field, never having thrown an NFL pass, and finished the game going only 3-of-6 for 34 yards. However, that game meant so much more than the statistics for Pederson and certainly for his head coach.
"We come to Philadelphia in November, and of course I was the backup at the time. So, I go in and led a couple drives in the second half, kicked two field goals and end up beating the Eagles," Pederson said. "That game was Don Shula's record-breaking game for all-time wins. That was 325 wins. I'm excited because we won the game, and the guys are excited because they carried Don Shula off. That was probably the first milestone for me in my career."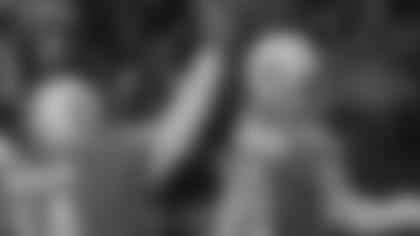 November 25, 1993 – Leon Lett's Thanksgiving To Forget
The second big moment would come only weeks later on Thanksgiving Day.
In addition to being a backup quarterback, Pederson was also the Dolphins' holder throughout that 1993 season. In another historic game that year, this time against the Cowboys, it all came down to a last-minute Miami field goal attempt in the snow. What occurred on the ensuing play, no one could have predicted.
"Who would think that in Dallas, Texas on Thanksgiving Day, you'd wake up to snow and freezing rain and sleet?" Pederson recalled. "Late in the fourth quarter, we're driving and we need a field goal basically to win the game. Pete Stoyanovich comes through and he kind of slips and he kicked it low. Dallas blocked it, but it went forward. It went towards our end zone.
"Well here comes Leon Lett and he tries to scoop the ball, but we end up recovering the kick, the blocked kick or now the muffed fumble. We ended up kicking the game-winning field goal and beat the Cowboys on Thanksgiving Day. You're a part of that history and NFL history on those games, and that was two that year that I was a part of. I'll always remember both of those."
The Dolphins recovered Lett's miscue with just three seconds left on the clock which was enough to for Stoyanovich to boot the walk-off winner.
!