DeSean Jackson could not have hoped for a much better start to his 2013 season. After two games, Jackson leads the NFL in receiving yards (297) and is tied for third in the league with 16 catches. Game three will be another huge early-season test for Jackson and the rest of the offense, as the Kansas City Chiefs defense ranks third in all of football, allowing an average of 248 total yards to their opponents through two games.
"They've done a great job early on this season," Jackson said of the Chiefs defense. "They're flying around, single-man safety, high coverage, trying to give their guys opportunities to make plays. So far, we've watched film on them and things like that. We feel good about our game plan going in and it's going to be great to come back and play at (Lincoln Financial Field) after losing our first home game just to go out there and give our fans something to cheer about. Hopefully we can come back and get a big win. This is a big game for us with Coach Reid coming to town, so a lot weighs on this game.
"They're comfortable with their corners – (Sean) Smith and Brandon Flowers – so I think they'll let them play out there on the outside, maybe in one-on-one coverage. So as a wide-receiver that's a thing that I look forward to and it's a big challenge for me as well … Hopefully I can go out there and put up big numbers to help my team win."
The Eagles offense has shown great balance through two games. Against the Redskins, the Eagles relied on the run game, handing off the ball to LeSean McCoy 31 times. Conversely, it was the passing game that led the way against the Chargers. Jackson says that this ability to adapt is the key to the team's success.
"(Defenders having to) pick and choose (their) poison is something, as an offense, that we feel great about with either the run game or the passing game, but I think we have great balance of being able to go out there and take advantage of what the defense does to us," Jackson said. "If they want to take something from us, we always have another option to reveal. The way I look at it, coming into each game we really don't know how any team is going to play us. We watch film and things like that, but the majority of the time when we go into a game, things kind of change up. Teams like to do different things to us because of McCoy, myself and (Michael) Vick. Regardless of what the case may be, we've just got to go out there. We're prepared, we watch film, and we know what their tendencies are. Once Thursday night comes, if there are adjustments or things that need to (change) on the fly, then that's what we'll do."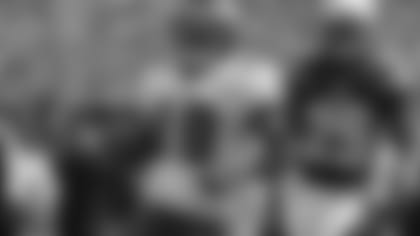 Jackson and Vick have connected for a pair of touchdowns already this season and though they could have connected for a few more last Sunday, Jackson believes the two have been on the same page since the offense was installed.
"Chip (Kelly) has come in and installed the offensive scheme and the tempo, and it fits perfectly to us, with us being speed guys and being able to take it and move it on the run and not really having any complications with knowing what it is," Jackson explained. "We see the play, we know the call, and using our tempo and speed we're able to get up to the line of scrimmage and catch people off-guard. (It's a) credit to our scheme that Chip Kelly has come in and installed. As a wide receiver, any time that I go out there and have my number called, I just have to go out there and make a play to help my team get points on the board and hopefully win games.
"We're going on our fourth year playing together… He does a great job of looking safeties off. He doesn't stare me down the whole time. He knows what reads to make and when to throw it and when not to throw it. A lot of times a single high-safety, they're just staring down the quarterback, so by moving your eyes and looking other ways and then coming back down the field, that tenth of a second definitely helps keep safeties off of me. The time we put in during the offseason and practices, that helps out too because we know what to expect from each other."
During Training Camp, Jackson spoke about wanting to become a complete receiver, and he's already put that plan into effect. Jackson has been moving all over the Eagles formations and has caught a number of passes over the middle of the field, an area where he has been lightly used in recent seasons.
"The offense does a great job of allowing me to go out there and be in the right spot and be moved around," Jackson said. "It keeps defenses off-guard because a lot of times I come to the line of scrimmage and they don't know where I am at, and that definitely triggers me popping big runs and big plays and passes and things like that to keep the defenses off-guard…Usually, I've just been the outside receiver, and that's where I've been the whole game. Being able to be in the slot and be motioned and not only be the outside receiver but (play) inside too, it puts stress on linebackers and safeties in order to guard me."
 As Jackson and the Eagles prepare for their third game in a span of 11 days, they have altered their preparation from a physical standpoint, but according to Jackson, it is mental preparation that will help the Eagles most when it comes to turning it on Thursday night.
"With a short week, we're not able to go out there and practice as hard as we will during a regular week," said Jackson. "As long as we're mentally prepared and watching film, recovering our bodies, getting in the ice tub and the sauna and things like that just to refresh our body, (we can) come back with the short week. In our situation we're kind of happy, because we just lost two days ago so we're ready to get back after it and go out there. The biggest thing is giving the fans something to cheer about. We lost the first (home) game, so to be able to go out and put up some big numbers and put points on the board, that will definitely put a smile on a lot of people's faces."