Over the course of a forgettable 2012 season, the Eagles offensive line suffered a number of devastating injuries. Jason Kelce, Jason Peters and Todd Herremans combined to miss 37 games, and as a result, the offensive line could never jell as a cohesive unit. Enter the 2013 preseason. Although Peters has missed the first two games, the line is displaying that if they can stay healthy, they can rebound to be amongst the best in the NFL.
Through two games, the offensive line has been just as good as advertised. Michael Vick and Nick Foles have been sacked a total of two times - Foles was sacked once in the opener against New England, and Vick was sacked once against Carolina. The Eagles have been able to move the ball very well in both games, which has made the linemen excited to see just how good the unit can be.
"I haven't been this excited to play football in a while," said Jason Kelce on Thursday after the Eagles 14-9 win over the Panthers. "The whole way the offense is structured, the scheming, all the stuff that we aren't even doing yet in games, it's really exciting to see where it's all going to go."
It's easy to focus on the positives from the offense as whole. The Eagles have averaged 426.5 yards per contest, but they have averaged just 18 points in their first two games.
"I think there were a lot of really good things that we did, but 400 yards of offense doesn't mean much if you only put 14 points up on the board," Kelce said. "We have to do a better job of not turning the ball over and finishing drives, and that's part of what the preseason is about. We're doing a lot of really good things, but we have to do what counts, and that's getting the ball in the end zone."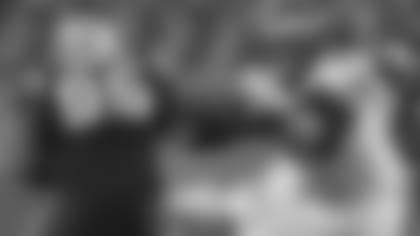 A key to the success of the offensive line has been the depth in the trenches. Even after the first unit left the game, the backups have been proving themselves worthy of playing time. According to guard Todd Herremans, there have been some bumps along the way, but the depth up front has made learning the new offense easier on everyone.
"There have been a couple challenges that have risen up the last couple of games, and there are just some growing pains in the offense that we are going through," Herremans explained. "With the tempo, we're out there, we're tired, and sometimes you hear things differently when you're tired so that's just something that we have to adapt to and keep going with. The good thing about this preseason is that we've had a lot of guys that have had to shift around, and I think we've built some great depth and I think we have a really strong unit."
Kelce echoed Herremans' statement, saying that the Eagles possess one of the deepest offensive line groups that he has ever seen.
"I don't think I've ever seen this many guys in a Training Camp setting," Kelce said. "I think there are quite a few backups that we have that are really good football players. I think we have a lot more depth this year than we did on last year's offensive line. It's going to be cool to see the way it shakes out with the last few spots, because I really don't know where they're going to go with it. ... They're always handcuffed with that 53-man rule, so some guys are going to get cut that really deserve to be on this team, but that's part of the nature of the beast."
Perhaps the biggest standout on the offensive line has been first-round pick Lane Johnson, who hasn't looked anything like a rookie in his first two preseason games. The new father has already received rave reviews from veteran teammates.
"Lane's been, from the get-go, a guy that's got a great football mind and he's a hard worker and he's one of those guys that doesn't really seem like a rookie out there," Kelce said about the starting right tackle. "I think he's done a great job so far with the position that he's been put in and everything he's been doing on the field. I think he's been a great focal point for this offensive line."
"Lane's doing good," Herremans said. "I think he's doing really well, especially for his second game ever. There's going to be some growing pains along the way with him, but I think that he's doing exceptionally well, and with the flow of the offense and having to make calls and stuff like that, I think he's doing really well."
So what's been the key to the offensive line's early success? After hearing from each of these players, it seems that the Eagles haven't had any failures to communicate, which has made life in the trenches all the easier.
"I think communication is very crucial," said veteran Allen Barbre, who has done an impressive job of filling in at left tackle for the injured Peters. "We continue to keep working on it. Coaches pounded on it this week, 'Communicate, communicate,' and it helps. We're going to keep getting better and better."
"It's definitely a complex system," Kelce explained. "Luckily, we've been running it since that first OTA, right when Chip (Kelly) got here, but we've come a long way since that first OTA, that's for sure. We really communicated well out there tonight, and that's really what the offensive line in general is trying to do right now is to get the communication down and make sure the offense in general is on the same page. As long as all 11 guys are doing what they're supposed to be doing, this offense should be very dynamic."