Head coach Andy Reid said on Sunday that free safety Brian Dawkins suffered a mild tendon strain in Friday night's win over the Patriots. Reid added that Dawkins should be ready to play in the team's season opener against St. Louis in two weeks.
The 13-year veteran said he will try to get back on the field ASAP. Dawkins stressed the importance of practicing and maintaining his body to perform at the level he has prepared it to be at for the 2008 season.
"I want to make sure I keep my conditioning where it is right now," Dawkins said. "I'm in a pretty good spot. I'm going to do what I need to do to get back on the field and make sure I keep my conditioning where it is."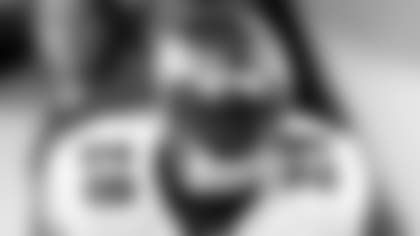 FS Brian Dawkins
The younger players on the roster will hopefully feed off of the veteran safety's work ethic and philosophy of practicing with purpose, playing with passion.
"I've always said I'm a practice guy," Dawkins said. "I like to put myself in tough situations and practice, so that when game time comes, the game is hopefully a lot slower than it already is for me. I'm a practice guy and I like to practice."
Dawkins was visibly frustrated as he walked limped off the field Friday night. More than anything, he said the angst steamed from his desire to finish off the series with the first-team defense.
Injuries take time, patience and mental resolve in order to fully recover. Even at 34 years of age, Dawkins does not allow fear of injury to influence his style of football.
"I don't worry about (injuries) at all, actually," he said. "They are going to happen regardless. I've had ankle injuries in the past and it's the same thing - you go out on the field, you play ball. If you get injured, you get treatment and get back on the field. That's pretty much the way I am."
In the event that the injury somehow prohibits Dawkins from playing every down, he has full confidence in the backup safeties.
"Two of the guys, especially, have already had a lot of playing time under their belts anyway - J.R. (Reed) and Sean (Considine)," he said. "I think you see a lot of potential in (Quintin) Demps and Marcus (Paschal) also in his limited time. You've seen him put some hits up.
"That's always been a key in an organization, period, for you to have quality depth. Not just depth, but quality depth, and I believe we have that."