The Eagles made a special visit to the Children's Hospital of Philadelphia (CHOP) on Monday afternoon. Defensive linemen Fletcher Cox and Vinny Curry, along with SWOOP, were the guests of honor. They met patients, played games, signed autographs and posed for photos.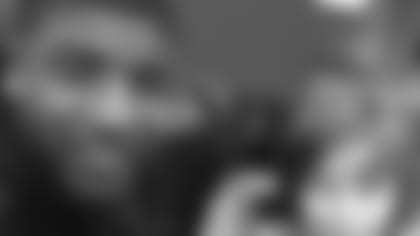 The event took place in The Ryan Seacrest Foundation's THE VOICE broadcast media center, which serves as CHOP's in-house radio, TV and new media studio. As selected patients roamed in and out of the studio and scores of others watched from the hospital's atrium, Cox and Curry alternated turns with the kids spinning a wheel that determined which games – charades, "DJ Replay" (guess that tune), word jumble, trivia and more – would be played. Everything was broadcast over the CHOP radio station, and patients who were not in attendance could call in from their rooms to guess answers to questions. SWOOP showed off his dance moves, and Cox and Curry participated in the chicken dance with two patients who, like all the rest, were wearing wide smiles.
Playing games on the spin-wheel, dancing and exchanging high-fives with kids eventually gave way to signing autographs on Eagles merchandise and posing for photos. Each child who wanted an autograph and a picture received one, as both Cox and Curry stayed to the very end to accommodate everyone.
"It was great, just giving back," Cox said. "These are kids that are not fortunate enough and have some (medical problems) and can't do the things other kids can. To come back here, for me it was hard because I always try to visit children's hospitals, and to come back today meant a whole lot."
"Anytime you can give another kid a smile, to give them something to smile about, I say why not?" Curry said. "It's just an awesome feeling. We gave them smiles, they gave us smiles."