First place in the NFC East is on the line Sunday afternoon when the Dallas Cowboys come to Lincoln Financial Field for a showdown with the Eagles. The home team is coming off two consecutive wins and is an undefeated 2-0 inside the division, while the visitors are also two-for-two within the NFC East. So by all means, division bragging rights are up for grabs between the two 3-3 sides come Sunday at 1 PM.
On the field, all eyes will be on Nick Foles, who is set to make his second consecutive start after Michael Vick declared on Thursday that he will not play this week. Foles, the reigning NFC Offensive Player of the Week, will look to notch his first career victory against a team other than the Tampa Bay Buccaneers. The Cowboys, meanwhile, are likely to be without two key ingredients to the puzzle – running back DeMarco Muray and pass rusher extraordinaire DeMarcus Ware, who has never missed an NFL game in his nine-year career. There are no excuses made for injuries in the NFL, however, so the proverbial "Next Men Up" will be under the spotlight.
Last Time They Met At Lincoln Financial Field:
November 11, 2012 – Cowboys 38, Eagles 23
Nick Foles replaced an injured Michael Vick for his first extended playing time as a rookie and the Eagles led 17-10 in the third quarter before the Cowboys rattled off 21 points in less than three minutes of game time to put the game out of reach. Tony Romo completed 19-of-26 passes for 209 yards and two touchdowns.
When The Eagles Have The Ball:
Michael Vick's Thursday announcement that he will not play this week thanks to a lingering hamstring injury means that the Cowboys can turn their attention fully to defending Nick Foles. Foles has been flat out superb in his time spent filling in for Vick. Though he has not played enough to qualify among the league leaders (quarterbacks must have 14 passing attempts per their team's games played), Foles' passer rating of 127.9 would place him second in the NFL behind only Peyton Manning (128.8). Foles has not turned the ball over and has thrown for six touchdown passes in limited action this season. He has proven that the Eagles offense can function just as well with him in the game as it can with Vick.
One of the biggest takeaways from the Eagles win over the Buccaneers was the continued brilliance of  LeSean McCoy. For the third time this season (and the first time since week three) McCoy broke the 100-yard barrier on the ground, rushing for 116 yards against a talented Tampa Bay front seven. In his previous two games against the Broncos and Giants, McCoy, the NFL's leading rusher, was only able to gain a combined 119 yards.  Following his latest performance, McCoy has created a 99-yard cushion between himself and Houston's Arian Foster, the league's second-leading rusher. Like Vick, McCoy always seems to step up his game against the Cowboys. His average of 84.8 rushing yards per game is his highest mark against any NFC East opponent. McCoy also played a large role as a receiver against the Buccaneers, catching a screen pass and taking it 44-yards on the Eagles' opening play. As the season has progressed, McCoy has become an increasingly bigger factor in the Eagles aerial attack, which may continue against the Dallas defense.
While the Cowboys rushing defense ranks 14th in the NFL is terms of yards allowed per game, their passing defense has been a much different story. The Cowboys secondary has allowed an average of 308.2 yards per game through the air, which ranks 30th in the league. Highly-talented cornerback Morris Claiborne lost his starting role on the outside and has now become the primary nickel back. Brandon Carr and Orlando Scandrick are the starting cornerbacks for Dallas, and they will have their hands full trying to slow down the Eagles receivers. While DeSean Jackson continues to have a stellar season (a league-best 589 yards receiving) and we all know how dangerous he can be, it will be interesting to see how Riley Cooper responds after his best game of the season against Tampa Bay (four catches, 120 yards, one touchdown). Many people have been wondering if the tight ends were going to get more involved as the Eagles looked for a second receiving threat, but now Cooper once again has the ability to prove himself as a reliable target. 
Another area to keep an eye on when the Eagles have the ball is the offensive line. As a whole, the unit played very well against a tough Tampa defense. Jason Peters missed some time against Tampa Bay and may be limited in practice this week because of a shoulder injury. If for any reason Peters can't play, expect to see Allen Barbre in the game. Barbre's versatility has gained him playing time whenever anyone on the offensive line needs a breather. Whoever is in the game for the Eagles upfront, they will have to do a nice job against a good Dallas pass rush. Even though it appears that Dallas will be without DeMarcus Ware, one of their top defenders, players like Jason Hatcher (5.0 sacks), George Selvie (3.0) and Kyle Wilber (2.0 sacks) have to ability to cause a lot of chaos.  
The Cowboys defense is lead by the man in the middle, Sean Lee, who paces the team with 60 combined tackles. Lee has also recorded two tackles for loss, one interception, three passes defensed and one fumble recovery. In other words, he's pretty good. Lee will have his eye on McCoy and the rest of the Eagles backs as he looks to disrupt the Eagles ground game.
Eagles Projected Starting Lineup
Offense
Defense
QB Nick Foles
DE Cedric Thornton
RB LeSean McCoy
NT Isaac Sopoaga
WR Riley Cooper
DE Fletcher Cox
WR Jason Avant
ROLB Trent Cole
LT Jason Peters
MLB Mychal Kendricks
LG Evan Mathis
MLB DeMeco Ryans
C Jason Kelce
LOLB Connor Barwin
RG Todd Herremans
LCB Bradley Fletcher
RT Lane Johnson
RCB Cary Williams
TE Brent Celek
S Nate Allen
WR DeSean Jackson
S Earl Wolff
When The Cowboys Have The Ball:
Quarterback Tony Romo can still demoralize opposing defenses both as a pocket passer and improviser once he escapes pressure. He is currently in the midst of one of his finest seasons to date, completing 70.2 percent of his passes for 1,693 yards, 14 touchdowns and just three interceptions. His 108.6 quarterback rating ranks third in the NFL behind only Peyton Manning (128.8) and Philip Rivers (108.7), and he leads a Cowboys offense that ranks second in the league in points per game (30.5), 11th in passing yards per game (265.0) and 14th total yards per game (349.8). Romo is 8-6 in his career against the Eagles, completing 60.9 percent of his passes for 2,508 yards, 16 touchdowns, 11 interceptions and an 88.2 quarterback rating. He will be sure to test an Eagles secondary that has played much better the past two weeks but still ranks 31st in the league in passing yards allowed per game (314.5). Cary Williams, Bradley Fletcher and Brandon Boykin are going to have their hands full. Meanwhile, Patrick Chung's status for Sunday is uncertain after reinjuring his shoulder against the Tampa Bay Buccaneers, and the safety tandem of Nate Allen and Earl Wolff could start again.
Assisting Romo in testing that Eagles secondary is a collection of receivers highlighted by bona fide star in wide receiver Dez Bryant and grizzled veteran tight end Jason Witten. Bryant ranks 14th in the league in receiving yards, with 459, but is tied for third in touchdowns, with six. At 6-foot-2, 222 pounds and with a unique blend of size, strength, speed and athleticism, he is an extremely difficult matchup for any cornerback and makes remarkably acrobatic catches seemingly every game. Bryant has been Romo's favorite target in 2013 and is the player he looks to when in need of a big play. Not to be overlooked is Romo's erstwhile security blanket in Witten, who is still going strong in this, the 11th season of his Hall-of-Fame career, with 31 receptions for 340 yards and three touchdowns. He has been a notorious Eagles killer, as well, posting 109 catches for 1,233 yards and seven touchdowns in 19 career games. Rounding out Romo's stable of pass-catching weapons are Terrence Williams (an impressive rookie coming into his own), Miles Austin (having a down season and facing injury questions), Cole Beasley (emerging as their move-the-chains slot receiver in the Wes Welker mold), Dwayne Harris (primarily a kick/punt return demon) and Gavin Escobar (rookie tight end averaging 16.3 yards per catch on eight receptions).
Running back DeMarco Murray suffered a sprained MCL Sunday night against the Washington Redskins and is unlikely to play against the Eagles. His absence hurts a Cowboys rushing attack that already ranks 25th in the NFL at just 84.8 yards per game. Murray has 428 yards and two touchdowns on 91 carries, while all other Cowboys running backs have just 58 yards (and no touchdowns) on 23 carries. The Cowboys will now have to rely on rookie Joseph Randle, who had 11 carries for a paltry 17 yards against the Redskins, and third-year pro Phillip Tanner to shoulder the load against an Eagles defense that ranks 16th in the NFL against the run (105.7 yards allowed per game).
For an Eagles defense that struggled a bit in giving up 17 points against the Tampa Bay Buccaneers offense in the first half, it made the necessary adjustments at halftime and allowed just three points after the break. Young defensive linemen Fletcher Cox and Cedric Thornton played tremendously as disruptive forces up front and continue to prove themselves as cornerstone pieces to build around moving forward. Nose tackle Isaac Sopoaga had his best game of the season, and Bennie Logan emphatically made his case for more snaps. Though Connor Barwin was able to notch his third sack of the season on a stunt, the edge pressure has to be more consistent, and that responsibility falls on Trent Cole and Brandon Graham. DeMeco Ryans was a stalwart in the middle against the Bucs and led the team in tackles with 12, while Mychal Kendricks will be relied upon both as a blitzer and in coverage.
Cowboys Projected Starting Lineup
Offense
Defense
QB Tony Romo
LDE Anthony Spencer
RB Joseph Randle
DT Jason Hatcher
WR Dez Bryant
DT Nick Hayden
WR Terrance Williams
RDE Kyle Wilber
LT Tyron Smith
SLB Justin Durant
LG Ronald Leary
MLB Sean Lee
C Travis Frederick
WLB Bruce Carter
RG Mackenzy Bernadeau
LCB Brandon Carr
RT Doug Free
RCB Morris Claiborne
TE Jason Witten
FS Barry Church
WR Miles Austin
SS Will Allen
Eagles special teams vs. Dwayne Harris
Harris outgained the entire Cowboys offense on returns alone in Dallas' win over the Redskins on Sunday night, 222 to 213. An 86-yard punt return touchdown and a 90-yard kick return to set up a number of crucial plays in the Cowboys' win. The Eagles special teams had trouble with Trindon Holliday when they played in Denver, and they will need to close all windows and doors against Harris. Whether it's Alex Henery kicking off or Donnie Jones punting, containing Harris will be a high priority.
Eagles linebackers vs. Jason Witten
Witten is playing in his 11th season in the NFL, but for Eagles fans it may seem like Witten has been a problem for a quarter of a century. In 19 career games against the Eagles, Witten has recorded 1,233 receiving yards, his most against any single opponent. As most players do, Witten seems to play at his best in rivalry games. Dez Bryant will likely draw a second defender at times, and there's a possibility that Witten could see one-on-one coverage with either an Eagles linebacker or even Brandon Boykin. If Witten can get open over the middle, the Eagles defense could be in for a long day.
WR Terrance Williams (No. 83)
Williams, a third-round pick (74th overall) in the 2013 NFL Draft, was an explosive big-play threat during his collegiate days at Baylor, where he averaged 16.2 and 18.9 yards yards per catch and scored 11 and 12 touchdowns as a junior and senior, respectively. He has steadily progressed as a pro and is emerging in that same role for the Cowboys offense. Williams has scored a touchdown in each of the last two games and, thanks to an 82-yard touchdown against the Denver Broncos, is averaging 17.2 yards per catch for the season. For an Eagles defense that prides itself on keeping the play in front not letting receivers get behind the secondary for long gains, Williams is sure to attract attention.
It looks like defensive end DeMarcus Ware will miss the first game of his NFL career with a quadriceps injury. His replacement is Kyle Wilber, of veritable football factory Wake Forest, whose trifecta of a sack, forced fumble and recovery on Robert Griffin III inside the Redskins' 5-yard line set up the Cowboys' final touchdown in a 31-16 victory last week. The second-year pro was a fourth-round pick (113th overall) in 2012 and now has an opportunity to make a name for himself as a starter.
**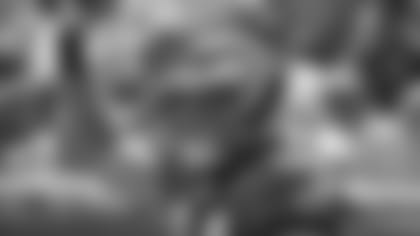 Cooper was called an "X factor" by teammate LeSean McCoy following his career game against the Buccaneers, in which he notched four receptions for 120 yards and a touchdown. The other three receptions all went for first downs, including a crucial third-down conversion and a long, 44-yard catch-and-run and that set up the DeSean Jackson's 36-yard touchdown in the fourth quarter. Cooper had just eight receptions for 93 yards on the season entering the contest and was ceding some playing time to Jeff Maehl. Now he will get a chance to build on his performance against a Cowboys defense that gives up 308.2 passing yards per game (30th in the NFL).
Chip Kelly praised Cox for his play against the Buccaneers, and it appears the second-year pro is finding his comfort zone in Bill Davis' 3-4 scheme. Cox was masterful against the run and collapsed the pocket as a pass rusher with a combination of explosion, leverage and strength. He has to continue to lead the way from the interior for an Eagles defense has been inconsistent pressuring the quarterback, especially off the edge, and ranks 24th in the league with just 13 sacks through six games. The Cowboys come into the game having given up 14 sacks on the season.