The clock is ticking, Eagles fans.
On April 30th, the NFL Draft will kick off from Chicago, as NFL Commissioner Roger Goodell announces the latest class of NFL talent. To make sure that you're all set for when the Eagles are on the clock for the first time, we're counting down each day with look at each number from 100-1 and the significance that the number holds in Eagles history.
Without further ado, let's continue the countdown … There have been just 13 passing plays of 99 yards in the history of the NFL. One of them belongs to Eagles' greats Ron Jaworski and Mike Quick. On November 10, 1985, the Eagles and Falcons entered overtime tied at 17 points apiece. Backed up to their own one-yard line, Jaworski hit Quick on a slant route around the 20-yard line, and Quick did the rest.
As the number relates to the draft, the Eagles have made the 99th overall selection five times in franchise history, most recently with guard Max Jean-Gilles in 2006. The other 99th overall selections include wide receiver Gary Scott in 2000, flanker Chuck Hughes in 1967, end Dave Lince in 1966 and back Gene Johnson in 1959.
First Player To Wear No. 99: DE Mel Tom (1967-73)
Most Recent Eagle To Wear No. 99: DT Jerome Brown (1987-91)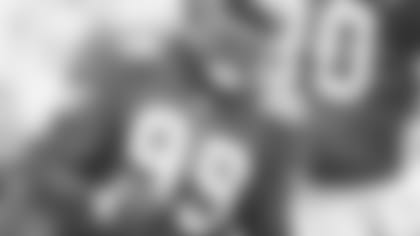 Jerome Brown's career with the Eagles was far too short.
Brown's 1991 season was his second consecutive Pro-Bowl campaign, and the future was incredibly bright for the Eagles young defensive linemen. That year, Brown lead all NFL defensive tackles with 88 solo tackles and recorded nine sacks on the season. He was a pivotal member of Gang Green, the Eagles defensive unit that was among the best in franchise history. As a unit, the Eagles held opponents to an average of just 221.8 net yards per game.
Unfortunately, that would be Brown's last time suiting up in Kelly green.
Just a few months after the season, Brown and his nephew were killed in a car accident in his hometown of Brooksville, Fla. He was just 27 years old. The Eagles kept Brown's locker in place for the 1992 season and he was inducted into the team's Hall of Fame in September of 1996. Brown played five seasons with the Eagles, playing in 76 games. He recorded 29.5 sacks and three interceptions in his NFL career.