The clock is ticking, Eagles fans.
On April 30th, the NFL Draft will kick off from Chicago, as NFL Commissioner Roger Goodell announces the latest class of NFL talent. To make sure that you're all set for when the Eagles are on the clock for the first time, we're counting down each day with look at each number from 100-1 and the significance that the number holds in Eagles history.
Without further ado, let's continue the countdown … Rookie wide receiver Josh Huff finished his first year in the National Football League with 98 receiving yards. Tucked behind a slew of high-producing wide receivers and tight ends, Huff did the best with the opportunities he was afforded in his rookie season, as well as making a name for himself on special teams.
The highlight of his season on offense came in Week 15, when he caught a pass for 44 yards against the Dallas Cowboys. Huff broke over the middle of the field and caught a slant from quarterback Mark Sanchez before swiftly turning up field and outpacing the Cowboys' defensive backs. The catch led to a field goal from fellow rookie Cody Parkey. First player to wear No. 98: End Mike Ditka (1967)
Most recent player to wear No. 98: LB Connor Barwin (2013-Present)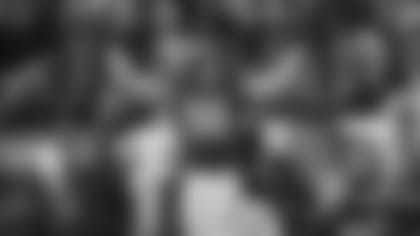 Connor Barwin redefined breakout years in 2014. The linebacker already had a reputation for being a disruptive force, giving opposing quarterbacks fits at the line of scrimmage and in the backfield. But this past season Barwin took a gigantic leap forward, catapulting himself into another level.
Barwin recorded a career-high 14.5 sacks, tied for the fourth-most in the league; a career-high 83 tackles, third on the team; and a career-high two forced fumbles. He picked up at least three sacks in two separate games, dominating Giants quarterback Eli Manning and Panthers quarterback Cam Newton, and earned NFC Defensive Player of the Month honors for his dominant November.
The explosive season earned Barwin his the first Pro Bowl selection of his six-year career. Barwin now has 19.5 sacks and 16 pass knockdowns in his first two years in Philadelphia, turning his affinity for disruption into a crowd-pleasing dominance. 2014 was a breakout year for a breakout player, and hopefully signs of things to come, next season and beyond.