The clock is ticking, Eagles fans.
On April 30th, the NFL Draft will kick off from Chicago, as NFL Commissioner Roger Goodell announces the latest class of NFL talent. To make sure that you're all set for when the Eagles are on the clock for the first time, we're counting down each day with look at each number from 100-1 and the significance that the number holds in Eagles history.
Without further ado, let's continue the countdown … The Eagles' longest scoring driving of 2014 was an eight-play, 97-yard drive against the New York Giants on Black Sunday. After the Giants fialed to convert on a fourth-and-goal opportunity, the Eagles took over at their own three yard line. In just 4:09 of game time, Nick Foles and LeSean McCoy moved the ball down to the Giants 15-yard line, where Darren Sproles capped off the drive with a touchdown scamper. First Player To Wear No. 97: DE Thomas Brown (1980)
Most Recent Eagle To Wear No. 97: DE Taylor Hart (2014-present)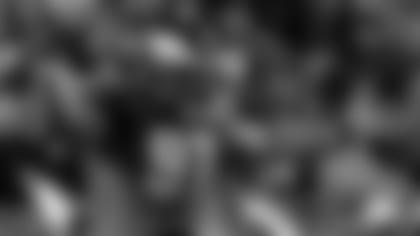 Walker was claimed by the Eagles shortly after the outset of the 2000 season. He appeared in 10 games in 2001, but it was the following year that he really burst onto the scene. In his first season as a full-time starter on the Eagles defensive line, Walker recorded 7.5 sacks while forcing two fumbles and recovering another. His 7.5 sacks were tied with now-Hall of Famer Warren Sapp for the most by an NFC defensive tackle.
Walker started for the Eagles during their NFC Championship season of 2004. He started all 16 regular season games, recording 4.5 sacks. Walker also played well against the New England Patriots in Super Bowl XXXIX, racking up three total tackles and a key fumble recovery in the second quarter.
A product of the University of Tennessee, Walker played six seasons in Philadelphia. From 2002-06, Walker started 75 of his 77 games in an Eagles uniform. Originally drafted in the third round of the 2000 NFL Draft, Walker played in four NFC Championship Games with the Eagles, starting in three of them.