The clock is ticking, Eagles fans.
On April 30th, the NFL Draft will kick off from Chicago, as NFL Commissioner Roger Goodell announces the latest class of NFL talent. To make sure that you're all set for when the Eagles are on the clock for the first time, we're counting down each day with look at each number from 100-1 and the significance that the number holds in Eagles history.
Without further ado, let's continue the countdown … Wide receiver Jeremy Maclin caught 85 passes this season, the fourth-most prolific receiving season in Eagles franchise history and the most catches by an Eagle since 1997. Maclin ranked tied for 13th in the NFL in receptions. But Maclin wasn't able to catch the elusive Brian Westbrook, the only Eagle to ever catch 90 passes in a season.
Westbrook, a running back, did it in 2007, hauling in 90 balls for 771 yards and five touchdowns that year. He finished that season with a league-leading 2,104 yards from scrimmage. Westbrook finished his Eagles career with 426 receptions, third-most in franchise history. First player to wear No. 90: LB Aaron Brown (1985)
Most recent player to wear No. 90: LB Marcus Smith II (2014-Present)
DT Corey Simon (2000-2004)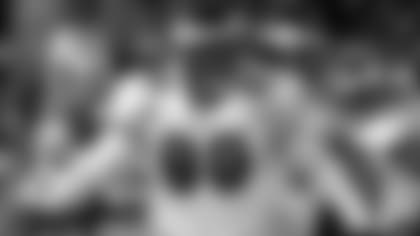 One of the Eagles' only two Top 10 draft picks since the turn of the century, left defensive tackle Corey Simon was selected sixth overall in the 2000 NFL Draft and had an immediate impact on Jim Johnson's defense. Simon slid into a starting role in his rookie season, starting all 16 games and producing at a high level from the start. He recorded 9.5 sacks his rookie season, as well as two forced fumbles and a fumble recovery.
Simon equalled that sack total in his next two seasons combined, forcing four more fumbles and establishing himself as an immovable piece of the Eagles' defensive line. After his 2003 season, Simon was voted to the only Pro Bowl appearance of his career; he piled up 7.5 sacks, forced two fumbles and a fumble recovery in a season very similar to his inaugural year in Philadelphia.
He spent just five years in the City of Brotherly Love and seven total seasons in the NFL, retiring in 2007, but when he played, Simon was one sparkplug of a tackle.