The clock is ticking, Eagles fans.
On April 30th, the NFL Draft will kick off from Chicago, as NFL Commissioner Roger Goodell announces the latest class of NFL talent. To make sure that you're all set for when the Eagles are on the clock for the first time, we're counting down each day with look at each number from 100-1 and the significance that the number holds in Eagles history.
Without further ado, let's continue the countdown … The Eagles scored 474 points in 2014 and allowed 400, for a season-long point differential of 74. That mark was good for eighth in the league, and it was the Eagles' best mark since a 92 point differential in the 2009 season.
This year's bounty of points came courtesy of a well-rounded team attack. Chip Kelly's high-efficiency offense threw for 27 touchdowns and ran for another 16. The defense forced 28 turnovers, and four different defenders - defensive end Cedric Thornton, safety Malcolm Jenkins, cornerback Bradley Fletcher and defensive end Fletcher Cox - all scored a touchdown.
And the special teams unit was just as hungry for points as the offense; rookie kicker Cody Parkey set a franchise record for the most points in a season with 150, and three different players returned blocked punts for touchdowns. First Eagle To Wear No. 74: OL Walter Barnes (1948-1951)
Most Recent Eagle To Wear No. 74: DT Wade Keliikipi (2014-present)
DT Mike Pitts (1987-1992)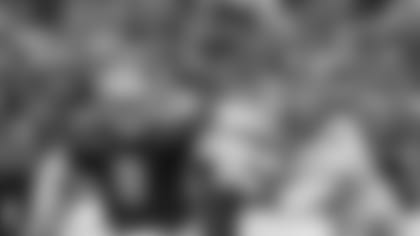 Defensive tackle Mike Pitts didn't begin his career with the Eagles, but when he arrived in southeastern Pennsylvania in 1987, he quickly proved himself to be a valuable and opportunistic asset. After four seasons in Atlanta, Pitts joined the Eagles for the '87 season and started six games in his first season as an Eagle, notching two sacks and recovering four fumbles in 12 games.
His sturdy performance in his first season in Philadelphia earned him a switch from right defensive tackle to left and 16 starts the following season, during which he added another sack and a half as well as 121 tackles. The next year, 1989, proved to be the peak of Pitts' powers as he racked up seven sacks and 110 tackles in 16 games, a disruptive force off the left edge.
Bouts with injuries cut his time in Philadelphia short, and he retired after the 1994 season following two seasons with the New England Patriots. He finished with 48.5 career sacks, 19.5 of which came in Eagles green.