The clock is ticking, Eagles fans.
On April 30th, the NFL Draft will kick off from Chicago, as NFL Commissioner Roger Goodell announces the latest class of NFL talent. To make sure that you're all set for when the Eagles are on the clock for the first time, we're counting down each day with look at each number from 100-1 and the significance that the number holds in Eagles history.
Without further ado, let's continue the countdown … In nine short weeks, quarterback Mark Sanchez put together the most statistically accurate stretch of quarterbacking in Eagles franchise history, completing 64.1 percent of his pass attempts. After spending the first seven games - and one quarter - as Nick Foles' dutiful backup, Sanchez was pressed into action when Foles went down with a collarbone injury against the Houston Texans in Week 9.
Thanks to his relentless preparation, Sanchez stepped in and didn't miss a beat. He led the Eagles past the Texans, completing 15 of his 22 passes that afternoon. Sanchez completed at least 50 percent of his passes in each of his eight subsequent starts, including at least 60 percent in five of those outings. First Eagle To Wear No. 65: G Robert McDonough (1946)
Current Eagle Wearing No. 65: OL Matt Tobin (2013-present)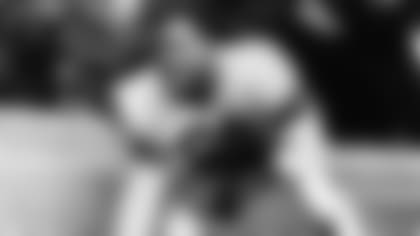 They don't make them anymore like they made Harold Bradley. A native of Chicago, Bradley played football at the University of Iowa before spending four years in the NFL, his final season coming with the Eagles in 1958. It was quarterback Norm Van Brocklin's first year with the team, and the Eagles went 2-9-1 in a woeful season. Two years later, Van Brocklin would lead the Eagles to an NFL Championship. By then, Bradley was already in Italy.
After his brief stint in professional football, Bradley embraced the arts. He earned a scholarship to study, he displayed paintings, and he hosted a nightly jazz club that played host to great musicians like Bob Dylan and Pete Seeger.
In 1960, when his former teammates were celebrating an NFL Championship, Bradley was getting his big break in the Italian acting scene. He starred in more than a dozen Italian films. The true definition of a renaissance man, Bradley was a one-of-a-kind football player who turned his time after the sport into something spectacular.