The clock is ticking, Eagles fans.
On April 30th, the NFL Draft will kick off from Chicago, as NFL Commissioner Roger Goodell announces the latest class of NFL talent. To make sure that you're all set for when the Eagles are on the clock for the first time, we're counting down each day with look at each number from 100-1 and the significance that the number holds in Eagles history.
Without further ado, let's continue the countdown … The Eagles converted 63.6% of their fourth down opportunities in 2014, the second highest total in the league behind Arizona (75%). The Eagles converted 7 of their 11 fourth-down chances, while holding opponents to a fourth-down conversion rate of just 25.0%. The most memorable fourth-down conversion came in Week 1, when Darren Sproles broke loose for the first Eagles touchdown of the season.
As it relates to the draft, the Eagles used the 63rd overall selection in 2001 to select defensive end Derrick Burgess out of Ole Miss. Burgess spent parts of four seasons in Philadelphia, tallying 8.5 sacks and recording one fumble recovery. First Eagle To Wear No. 63: G Ralph Fritz (1941)
Current Eagle Wearing No. 63: C/G  David Molk (2014-present)
C Hank Fraley (2000-2005)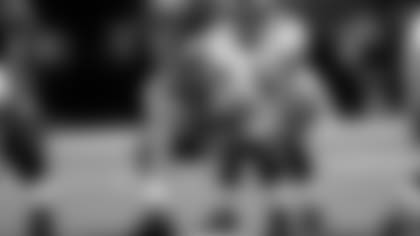 Hank Fraley was in the middle of all the success the Eagles achieved during the early 2000s. Literally, he was right in the middle.
An undrafted free agent out of Robert Morris, "Honey Buns" Fraley spent his entire first season in Philadelphia on the inactive list. Before the start of the 2001 season, Fraley won the starting center job and went on to play in all 16 games each of the next four seasons.
Fraley helped anchor the Eagles offensive line during their run to the Super Bowl in 2004, but injury forced him to miss half of the 2005 season, and the following year he was supplanted in Training Camp by Jamaal Jackson.
He went on to play five more seasons in the NFL, spending four years in Cleveland and one in St. Louis. Over his 10-year career, Fraley played in 142 games, starting 123 of them.