The clock is ticking, Eagles fans.
On April 30th, the NFL Draft will kick off from Chicago, as NFL Commissioner Roger Goodell announces the latest class of NFL talent. To make sure that you're all set for when the Eagles are on the clock for the first time, we're counting down each day with look at each number from 100-1 and the significance that the number holds in Eagles history.
Without further ado, let's continue the countdown… Entering the season, finding a consistent pass rush was a priority for the Eagles defense. As it turned out, the Eagles adjusted fairly well in the second year of Bill Davis' 3-4 scheme, and as a result they found their pass rushing prowess, racking up 49.0 sacks as a team. The Eagles 49.0 Sacks were the most of any NFC team and tied for the second most in the NFL. Pro Bowler Connor Barwin lead the way individually with 14.5 sacks, while Vinny Curry finished the season with 9.0 quarterback take-downs. First Eagle To Wear No. 49: B Dan DeSantis (1941)
Most Recent Eagle To Wear No. 49: LB Josh Kaddu (2014)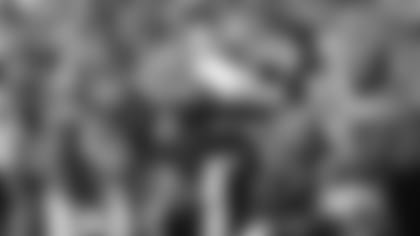 Josh Parry did what he needed to in order to find a path to the NFL.
He played linebacker at the collegiate level and although he had a successful career at San Jose State, he went undrafted in 2001. The Eagles picked him up, but after he was released, he spent time playing in Europe before returning to Eagles Training Camp in 2003.
It was then that the Eagles decided to move him to fullback, and that was how he caught on in Philadelphia. Parry found his way onto the roster when starting fullback Jon Ritchie went down with an injury early in the 2004 season. He would appear in 13 games that season, starting four of them. Parry was the Eagles starting fullback during Super Bowl XXXIX, during which he caught one pass.
The following season, Parry won the starting job during Training Camp and appeared in all 16 games for the Eagles in 2005. In September of 2006, Parry was traded to the Seattle Seahawks, where he would play one more season.