The clock is ticking, Eagles fans.
On April 30th, the NFL Draft will kick off from Chicago, as NFL Commissioner Roger Goodell announces the latest class of NFL talent. To make sure that you're all set for when the Eagles are on the clock for the first time, we're counting down each day with look at each number from 100-1 and the significance that the number holds in Eagles history.
Without further ado, let's continue the countdown… The Number 48 is synonymous with the first NFL Championship in franchise history. The Eagles hosted the Chicago Cardinals at Shibe Park during a blizzard, and after a scoreless three quarters of play, the Eagles took advantage of a turnover and Steve Van Buren scampered into the end zone from five yards out for the game's only score.
The Eagles took home the title and went on to make it back-to-back Championships in 1949. First Eagle to wear No. 48: G Eberle Schultz (1940-1943)
Most recent Eagle to wear No. 48: FB Jon Ritchie (2003-04)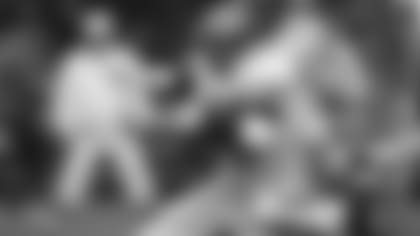 Brian Dawkins may be the first name that comes to mind when fans think of Eagles safeties, but before Weapon X, Wes Hopkins was the man.
Playing alongside Andre Waters, Hopkins patrolled the back line of the Eagles defenses of the late 80s and early 90s, including the 1991 defense that ranks among the best in NFL history. A second-round pick out of SMU, Hopkins was plugged into the starting lineup right away. He played 137 games in his 10-year career with the Eagles, which is tied with Waters for the third-most games by an Eagles secondary player. Hopkins finished his career with 30 interceptions (fifth in Eagles history) and 12 sacks, one of just 11 players in the history of the NFL to do so. His best individual season came in 1985 when he recorded six interceptions, returning one for a touchdown, as well as 2.0 sacks.
The Birmingham, Alabama native earned Pro Bowl and All-Pro honors in 1985. He retired after the 1993 season, spending his whole career with the Eagles. He remains one of the top safeties in Eagles history.