The clock is ticking, Eagles fans.
On April 30th, the NFL Draft will kick off from Chicago, as NFL Commissioner Roger Goodell announces the latest class of NFL talent. To make sure that you're all set for when the Eagles are on the clock for the first time, we're counting down each day with look at each number from 100-1 and the significance that the number holds in Eagles history.
Without further ado, let's continue the countdown… The highpoint of the Eagles' 2014 season came in the form of a Bird Day bashing of the Dallas Cowboys. Playing in front of over 91,000 Cowboys fans and a national audience on Thanksgiving, the Eagles throttled the Cowboys 33-10.
The win moved the Eagles' record to 9-3, and though the team went just 1-3 in the final four games, the victory over the heated rivals will be remembered for years to come. Mark Sanchez perfectly orchestrated the Eagles' offense, throwing for 217 and a touchdown. He also added another on the ground, as the Eagles played perhaps their most complete game of the season. First Eagle To Wear 33: T-E-DB Guy Turnbow (1933-34)
Last Eagle To Wear 33: S Chris Prosinki (2014-present)
HB Billy Barnes (1957-61)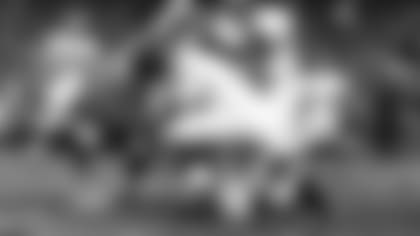 At 5-11, 205 pounds, Billy Barnes wasn't the biggest back in the NFL, but pound-for-pound, he was a tough as they come. He averaged less than four yards per carry in his five seasons with the Eagles, but he was known for being a tough man to take down, especially around the goal line. Barnes scored 20 touchdowns as an Eagle, including six in the Eagles' Championship season of 1960.
Barnes was traded to Washington in 1962, and went on to play for the Minnesota Vikings as well. In Minnesota, Barnes played for head coach Norm Van Brocklin, his former teammate with the Eagles.