Looking to snap a two-game winless streak, the Eagles head to 6-4 Baltimore to face the rugged Ravens, coached by former Eagles assistant coach John Harbaugh. We break down the game in our Countdown to Kickoff ...
BREAKING NEWS
As expected, head coach Andy Reid was noncommittal regarding the status of running back Brian Westbrook for Sunday's game in Baltimore, and we might not know until shortly before kickoff whether or not Westbrook will be able to go. He didn't practice all week due to inflammation in both his knee and his ankle, and he has been closely monitored.
The playing surface at M&T Bank Stadium is artificial turf, and the Eagles have been careful to keep Westbrook off such a surface in recent weeks since the team utilizes the same turf in its indoor practice facility.
Westbrook has struggled of late due in part to a lack of commitment to the running game, as well as inconsistency along the offensive line. If he plays Sunday, the Eagles want to get him the football in this game and make the Ravens account for his versatility and explosiveness. A key for Philadelphia is getting the offense untracked early. Quarterback Donovan McNabb has been off his game in the last several weeks early on, so the Eagles will try to have more balance and more success to get a jump on the Ravens.
Regardless of Westbrook's status, look for Correll Buckhalter to get more touches this week.
Defensively, the Eagles have to first concentrate on Baltimore's outstanding running game and then go after rookie quarterback Joe Flacco. The University of Delaware product has shown great maturity and poise in his rookie season.
Some potential situations to watch for in Baltimore: Ravens left tackle Jared Gaither missed practice this week with a shoulder injury, and right tackle Willie Anderson was limited with an ankle injury. Both are questionable. A banged-up offensive line could prove troublesome for Flacco against Jim Johnson's blitz-heavy scheme.
Despite boasting the sixth-best offense in football in total yards, there's still a major problem for the Eagles: when they get to third down, more often than not, they're coming off the field.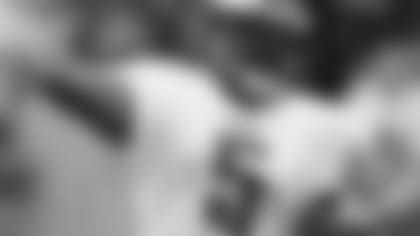 QB Donovan McNabb
The Eagles convert just 35.1 percent of their third downs, which ranks 23rd in the NFL. Offensive coordinator Marty Mornhinweg placed the blame on the fact that the Eagles aren't getting enough done on first and second downs to set themselves up for manageable conversions.
"In many games, some of your best games, you don't have that many third downs and it's really unique," Mornhinweg said. "We are doing some things situationally very poor, and so, we've got to get better situationally, and we've gotten better in some aspects, some situations, and we haven't in others and that bothers me. It bothers the players. And we're working hard and preparing hard to get better at some of those situations."
There could be multiple culprits for the futility, but a lot of the time it comes down to an inability to run the football and to establish an offensive rhythm. In three straight games, quarterback Donovan McNabb has come out flat and, with him, the entire offense as well.
"You need to gain some yards early in the game, and that's one thing that we have discussed as an offense," Mornhinweg said. "We have to run the ball a little bit better early in the game. So, that sort of sets the tone."
Though Mornhinweg addressed the problems, he offered no excuses and no solution proposals other than the players and coaches simply need to do a better job getting McNabb into a rhythm.
"We could go through a lot of reasons and those turn into excuses," he said. "We have to play a little bit better, especially early in the game."
Ravens QB Joe Flacco:OK, OK. It's pretty obvious that you should be watching a rookie quarterback, especially against Jim Johnson's scheme. But Flacco is poised, and he had gone four straight games without an interception before tossing two in last week's loss to the Giants. If Flacco avoids pressure, he could make things happen.
Ravens FB Le'Ron McClain: The Ravens have the third-best rushing offense in football, and McClain could be the one part of Baltimore's three-headed monster the Eagles need to worry about. He weighs in at a hearty 260 pounds, and the Eagles' front seven has had problems with big bruisers like the Giants' Brandon Jacobs. If McClain gets going, look out.
Eagles QB Donovan McNabb: Four turnovers against a woeful Bengals defense were backbreaking. McNabb must get into a flow, and that's on him and the coaches. The run-pass ratio will be something to watch here.
Eagles MLB Stewart Bradley: Bradley had a long day against the Giants, when he was forced to make contact with the bruising Jacobs far too often. The Ravens will try to wear out the Eagles up the middle, much like New York did. If that's the case, Bradley's stamina will be something to watch. With him against Baltimore, it's not about how many tackles he makes, but where he makes them: at the line of scrimmage, good. In the secondary from behind, bad.
KEEP AN EYE ON ... Ravens TE Todd Heap
The numbers don't jump out at you, but the two-time Pro Bowl selection and former first-round pick is someone the Eagles have to account for Sunday if they hope to limit rookie quarterback Joe Flacco's effectiveness.
This season, Heap has 21 receptions for 211 yards and a pair of touchdowns. Both of the scores came two weeks ago in Heap's best performance of the season - a five-catch, 58-yard output in a 41-13 rout of the Texans.
Heap is the Ravens' all-time leader in receptions, yards and touchdowns. Defensive coordinator Jim Johnson knows how savvy the eight-year veteran is.
"He's probably one of the most steady tight ends we'll face, as far as a route runner and getting open and things like that; plus his size," Johnson said. "He's an excellent tight end. To put him in a (Dallas TE Jason) Witten class, when he was younger, he was probably like a Witten. He's been around a little bit right now, but he's still a very solid tight end. We'll have our hands full again with him."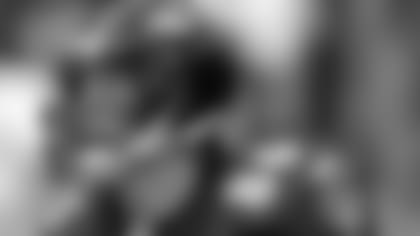 TE Todd Heap
Not that Heap will put up Witten-type numbers against the Eagles, but Witten did grab seven balls for 110 yards in the Week 2 matchup against Philadelphia. Heap has been limited by injuries in recent years and hasn't had a 100-yard receiving game since Week 15 of the 2005 season.
The Eagles' struggles against tight ends have been well-documented this season, but they have been much improved of late. Bengals tight end Ben Utecht had one catch for 2 yards a week ago and outside of Giants tight end Kevin Boss, no tight end has had a significant impact since the Week 6 game against San Francisco when Vernon Davis was the 49ers leading receiver.
Philadelphia averages 26.4 points per game, while only allowing 19.3. With a difference of 7.1 points per game, the Eagles rank third in the NFL.
In November and December, the Eagles are second in the NFL in overall winning pct. (.693) and first in road winning pct. (.743) during that span.
With a 268.5 net passing yd. avg., the Eagles offense currently ranks fourth in the NFL. In addition to moving the ball well, the offense has been able to come up with "big plays," as they rank t-3rd in the NFL with 36 passing plays of 20-or-more yds.
FS Brian Dawkins has totaled 17 tackles and 1 FF in 2 games against the Ravens.
K David Akers needs 7 points to reach 1,000 for his career, becoming the 40th kicker in the NFL to do so. He has also connected on 12 straight FG attempts.
QB Donovan McNabb is 13-4-1 (.750) in past 18 starts vs. AFC and has not lost in past five (4-0-1).
With eights sacks last week, the Eagles raised their season total to 36. The Ravens have allowed 18 sacks all season.
Baltimore has won 3 of its past 4 game at home.
The Ravens are 1-4 against teams with a winning record.
Baltimore is among the NFL's top three teams in rushing defense (79.6 yards per game), total defense (267.9) and interceptions (15).
Since '03, Baltimore is 33-10 (.767) when defense posts 3 sacks.
Ravens WR Derrick Mason has averaged 101 receiving yds. per game in his past two games vs. Philadelphia.
On defense, Ravens LB Ray Lewis has three interceptions in his last two games; LB Terrell Suggs has gone three games without a sack, but still leads the Ravens with five sacks.
The Ravens haven't allowed a 100-yard rusher in 29 straight games, the longest streak in the league.