This is a battle of two of the hottest teams in the National Football League. It could shape up to be one of the premier showdowns of the entire NFL season. NBC got this one right. The Eagles are 8-3 dating back to the end of last season. The Giants, meanwhile, have only lost once in their last 12 games. We preview this NFC East battle in Countdown To Kickoff ...
With the exception of guard Shawn Andrews, the Eagles could have every player healthy and ready to play Sunday night against the Giants. It comes at a crucial time, when a win against the Giants could place the Eagles dead smack in the middle of the NFC East title hunt, which could dictate the entire playoff race in the conference.
Lito Sheppard (groin), Brian Dawkins (hamstring) and Brian Westbrook (knee) all practiced on Friday after having been limited earlier in the week. Tight end L.J. Smith had a full workload after missing last Sunday's game with a concussion.
Finally, it's the addition of weapons that head coach Andy Reid will have to gameplan for as opposed to the absence of key cogs. And seeing as the Eagles will be locked in a battle against New York, which will be missing starting safety James Butler, it couldn't have come at a more convenient time.
In preparing for the Giants, offensive coordinator Marty Mornhinweg has to get his team ready for much more pressure up the middle than is typical.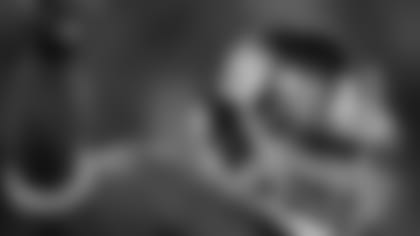 The Eagles have to beware of defensive end Justin Tuck
The Giants built their Super Bowl run on generating sacks, hurries and knockdowns from their defensive line, allowing defensive coordinator Steve Spagnuolo to calculate blitzes at certain times to befuddle an offense.
Defensive tackles Fred Robbins, Barry Cofield and Jay Alford have combined for nine sacks this season, which creates multiple problems for the Eagles' offensive line and quarterback Donovan McNabb.
"Pressure up the middle, the quarterback has less air. Even when (the defender)'s blocked, there's less air," Mornhinweg said. "The lanes are shut down just a little bit; the immediate lanes right in front of him. Many times, they make the quarterback slide or move. More than half the time, you're sliding or moving or full-scramble or up and out."
What makes the Giants defense more confusing is their constant rotation of personnel, not unlike Spagnuolo's tutor, Jim Johnson, does with the Eagles.
Often, defensive end Justin Tuck will shift inside to create additional pressure.
"They stand him up sometimes inside. He's just an exceptional athlete with pass-rush ability," Mornhinweg said. "Yeah, if you get a guy like that, normally you're going to move him around. We've seen several like that and we'll continue to see guys like that."
DE Justin TuckTuck, who replaced the retired Michael Strahan, comes into Week 10 ranked sixth in the league in sacks. He's been red hot lately, registering 5.5 sacks in his last three games. However, the fourth-year player out of Notre Dame will have to get by Eagles tackle Jon Runyan, who's been around the block a few times. If Tuck has a good game, so will the Giants.
WR Plaxico BurressAfter playing the good soldier on a Super Bowl championship team, Burress has rocked the boat a few times this season. It obviously hasn't hindered the Giants, but it may have hurt Burress' game. Through seven games, he's caught just 31 balls for 390 yards and he hasn't found the end zone in three weeks. Which Burress will show up? The one the always seems to come up big against the Eagles or the one that seems disinterested and distracted?
TE L.J. SmithSmith will see his first action in since leaving the game against the Falcons with a concussion. Backup tight end Brent Celek had a monster game in Smith's absence last week, catching six passes for 131 yards. That's more yards than Smith has accumulated through the first six games of the season. Against the Giants on Sunday, Smith may just be playing for his starting job.
CB Asante SamuelAfter playing against Dallas earlier this season, Samuel said how excited he was to be a part of a real rivalry. If he thought the Cowboys were a rival, wait until he gets a load of the Eagles-Giants rivalry. Both Brian Dawkins and Donovan McNabb have said that in their time in Philadelphia, the Giants game has been the most intense. Giants' receiver Plaxico Burress has torched the Eagles in the past, so Samuel may be Philadelphia's ace-in-the-hole.
KEEP AN EYE ON ... The Giants' Three-Headed Rushing Attack
The Giants are second in the NFL in rushing only to Atlanta.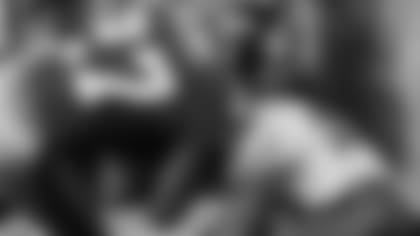 The Eagles would love to see Jacobs turn the ball over Sunday night
Yes, isn't that the Falcons team that the Eagles held to just 77 yards on 24 carries at Lincoln Financial Field just two weeks ago?
What makes the Giants different?
The premier back is relatively the same. The Falcons shuffled out Michael Turner, a 245-pound bruiser between the tackles. The Giants have Brandon Jacobs who is built like a defense end at 6-4, 264 pounds. Jacobs is fifth in the league with 680 rushing yards to go along with seven touchdowns. Jacobs is on track to become only the second player in Giants history (Joe Morris 1985, 1986) to rush for 1,300 yards and 14 scores in a single season.
When Jacobs gets going, he is tough to stop. He averages 5.1 yards per carry since the start of last season, only second in the NFL to Adrian Peterson of the Vikings. The Giants are 7-1 when he rushes for at least 100 yards, including last week's blowout win over the Cowboys. When Jacobs gets at least 10 carries, the Giants are 21-4 including playoffs. Eagles coaches and players emphasized how you must tackle low on Jacobs and swarm to the ball. With all of that weight, once he gets going he's tough to stop.
How can you slow him down? Penetration is key. Don't be surprised to see a lot of blitzes designed to help stop the run. The only problem with run blitzes is that it can create lanes for Jacobs to roll.
The Falcons were without starting left tackle Sam Baker in the matchup with the Eagles. The underrated Giants offensive line has no injuries and has received outstanding play inside from guard Chris Snee.
Like the Falcons had with Jerious Norwood, the Giants have multi-dimensional threats in Derrick Ward and Ahmad Bradshaw. Ward has 437 yards this season (more than Brian Westbrook) and averages 6.1 yards per carry. Bradshaw is a home run threat with great speed to get to the perimeter.
As much as Jim Johnson says that wide receiver Plaxico Burress is the biggest offensive threat, quarterback Eli Manning's life has been made very comfortable by the effective rushing attack.
*FIRST AND LONG
---
Dating back to the last three games of 2007, Philadelphia is now 8-3 in its last 11 contests.
Eagles QB Donovan McNabb has won seven of his past 10 starts against the Giants.
Eagles RB Brian Westbrook has averaged 126.5 scrimmage yards and has 11 total touchdowns (6 rush, 4 rec., 1 PR) against the Giants in eight regular season games since 2003. Including the postseason, Westbrook has 12 TDs against New York since 2003 — most of any player in football.
Eagles WR DeSean Jackson leads all rookie receivers with 525 yards in 2008. He had 22 catches for 327 and a touchdown in his first four NFL games, but has just 12 receptions for 198 yards and no scores in his last four contests.
New York has 30 sacks and Philadelphia has 27 this season - the top two totals in the NFC.
The Eagles average margin of victory in 2008 is 18.0 ppg. (2nd best in the league) and the Giants are winning by an average of 16.9 ppg. this season (3rd best in the league).
The Giants are playing for a 13th win in the past 14 on the road (including playoffs).
Giants QB Eli Manning has failed to top 200 yards passing in any of his last four games (175.8 yards per game) after averaging 258.0 pass yards per game in his first four contests of 2008. Manning is 3-1 in his career against QB Donovan McNabb and has never lost a regular season game in Philadelphia (3-0 record). Manning is 21-5 in his past 26 starts.
Giants WR Plaxico Burress has a 100-yard receiving game in four of the last six against the Eagles.
Giants DE Mathias Kiwanuka posted a career-high three sacks in the first Eagles-Giants matchup last season.
When Giants DE Justin Tuck has a sack, the Giants are 11-3 (including the playoffs).
Of running backs with at least 50 carries, New York RB Derrick Ward has the best per-carry average at 6.1. He spells starter Brandon Jacobs throughout the game.