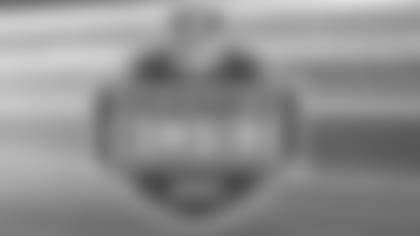 The NFL Scouting Combine begins Feb. 18 in Indianapolis. In the days ahead, we will take a position-by-position look at some of the key storylines to keep track of as the 2009 NFL Draft inches closer. Today, we take a look at the offensive line ...*
1. The Eagles are going to be very interested, right?
Of course, the Eagles' philosophy is to build the team through the draft. And there's no question that you need good play up front on both sides of the ball to win.
The offensive line is certainly in the spotlight this off-season. The two long-term tackles, Tra Thomas and Jon Runyan, are scheduled to become free agents on Feb. 27. The two-time Pro Bowl right guard, Shawn Andrews, missed the final 14 regular season and three postseason games after undergoing back surgery.
What might be a little bit of a surprise is that the Eagles haven't used as many high picks on offensive linemen as you would probably think. Thomas was a first-round pick, but he was drafted during Ray Rhodes' tenure as head coach. Runyan, a fourth-round pick of the Houston Oilers in 1996, was Andy Reid's first high-profile free agent signing back in 2000. Andrews was the only first-round pick of the Reid era to be used on an offensive lineman. Two other offensive linemen have been selected in the second round - Bobbie Williams in 2000 and Winston Justice in 2006. If you look at the other two current starters on the offensive line - Todd Herremans and Jamaal Jackson - one was a mid-round pick (Herremans, fourth round, 2005) and the other was signed as a rookie free agent. Nick Cole, who finished the season as the starter at right guard, was also a rookie free agent.
Reid has used a total of 17 draft picks on offensive linemen during his tenure. The Eagles have plenty of ammo to use if they want to move up or down in the draft. They have two first-round picks, four in the first three rounds and a total of 10 overall. They could receive more when the compensatory picks are announced in late March.
Of course, the Eagles' actions in free agency will shape what they do in the draft. The Eagles also could look at the current roster and believe that players already in place will step up and fill any necessary holes.
2. If the Eagles sit at No. 21, who will be the best lineman available?
The draft experts all pretty much agree that the top three offensive tackles are, in alphabetical order, Virginia's Eugene Monroe, Alabama's Andre Smith and Baylor's Jason Smith. And if you choose to believe the mock drafts circulating out there, all three will be selected in the top 10. Even if that's not the case, it seems unlikely any of the three will slide all the way to the Eagles' first pick at No. 21.
After those three are a pair of intriguing prospects who should be around at No. 21 - Ole Miss' Michael Oher and Arizona's Eben Britton.
Oher is known as "The Blind Side" because he was featured in Michael Lewis' book, The Blind Side: Evolution Of A Game, which looks at the history of one of the most unsung positions in football, the quarterback's blind side blocker. Oher overcame homelessness, the murder of his father and the drug addiction of his mother thanks to a supportive family which eventually adopted him. Oher didn't play football until his last two years of high school, but quickly became one of the country's most prized recruits. Ever since he was featured in the book, Oher is one of the most scrutinized draft prospects. Oher considered coming out last year after his junior season, and at one point he did enter the draft, but decided to return and solidify his status as a top-five selection. His inconsistent play is the reason he is not in the upper tier of draft picks, but his ideal size (6-5, 318 pounds) and athleticism will be too good for a team to pass up. Oher could very well be a classic "Boom or Bust" prospect.
Britton is an underclassman who has tremendous athleticism and has proven to be a very good pass blocker during his time at Arizona. The 6-6, 310-pound Britton is quickly rising up the draft boards and can solidify his status as a bonafide first-round selection with a good showing at the Combine. The one thing to note with all underclassmen is that until they declare for the draft, teams are not looking at them too heavily. Once a player declares, the film breakdown becomes much more intense and the strengths and flaws of a player are better known.
3. There are gems available outside of the first round, aren't there?
You just have to look at Herremans and Jackson to see that you can get plenty of bang for your buck in the middle-to-late rounds, which is where the Eagles have selected most of their linemen in the Andy Reid era. The only difference with this off-season is the fact that the Eagles could be changing both of their starting offensive tackles.
If the Eagles look to bolster the line in the mid-to-late rounds, here is a look at some of the players to keep an eye on at the Combine. At tackle, there is Troy Kropog from Tulane. A three-year starter for the Green Wave, Kropog has gained 50 pounds during the course of his college career. He's similar to Herremans in that he has good athleticism in a tall frame (6-6, 315 pounds). Another player is Illinois' Xavier Fulton. In his first two seasons in college, Fulton played at defensive end. After suffering a knee injury which cost him the entire 2006 season, Fulton was moved to tackle and earned All-Big Ten honors in 2007 and 2008.
At guard, there is not a lot of depth in this year's draft according to NFL Network's Mike Mayock. The top guards - Oregon State's Andy Levitre and Oklahoma's Duke Robinson - will go most likely in the second round. If the Eagles wait until later in the draft, they could tab a mauler like Wisconsin's Kraig Urbik. A four-year starter at Wisconsin, Urbik started at tackle as a freshman and moved inside to guard his sophomore year. There is also Herman "The House" Johnson from LSU. The 6-7, 386-pound Johnson was the biggest baby ever born in the state of Louisiana. A late-round project could be Auburn's Tyronne Green who is much lighter than Johnson (6-2, 307 pounds) and started every game for the last two seasons after beginning his career as a defensive tackle. Sounds similar to former Eagle Scott Young, who converted from defensive tackle to offensive guard late in his career at BYU.
4. Which school will I never have heard of until the draft?
The Eagles are certainly not afraid to choose a player from small schools. There are currently nine players on the Eagles roster from non-FBS schools and eight of them were originally either drafted or signed as rookie free agents by the Eagles. Just look at the Eagles' offensive line. Herremans came from Saginaw Valley State. Jackson came from Delaware State.
Connecticut isn't a small school, but it isn't known as a football powerhouse either. One of the better tackles in this year's draft, however, played for the Huskies. William Beatty, a 6-6, 306-pounder, is expected to be a first-day pick (remember that only means the first two rounds now). There weren't too many offensive line prospects invited to the Combine from little-known schools. Furman's Joel Bell is the King Dunlap of this year's class, towering over the rest of the tackle prospects at 6-8. Eagles fans now know McNeese State from defensive end Bryan Smith last year, but this year Kyle Link is a late-round tackle prospect from the same school. There is also late-round guard prospect Roger Allen from Missouri Western State.
5. Who is at the center of attention?
Depending on who you ask, the top centers in this year's class are Cal's Alex Mack, Oregon's Max Unger and Louisville's Eric Wood.
Mack won the Draddy Trophy last season which is given to college football's top scholar-athlete. A three-year starter and three-time first-team All-Pac 10 honoree, Mack has the size (6-4, 316 pounds) and experience to anchor the offensive line. Unger is a versatile player who can suit up at any position on the line. Unger played left tackle for two years before moving inside to center. A four-year starter after a redshirt year, Unger was twice named first-team All-Pac 10. Wood is a durable, interior force who could end up as a guard in the NFL. Wood owns the school record for most consecutive starts and was named to the All-Big East team three times.
If you look beyond the first wave of centers, you have a pair of slimmer players in Penn State's A.Q. Shipley and Alabama's Antoine Caldwell. The 297-pound Shipley was the recipient of the Rimington Trophy, which is awarded to the nation's top center. Caldwell was a four-year starter for the Crimson Tide and played tackle, guard and center. Like Shipley, Caldwell is less than 300 pounds tipping the scale at 292.