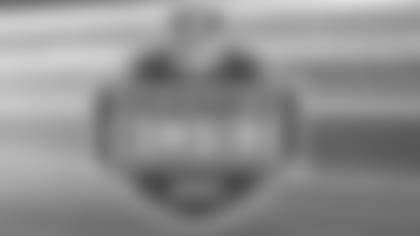 INDIANAPOLIS --** If there was ever a day for Eagles fans to watch the NFL combine with great interest that day was today, February 21st. The offensive linemen and tight ends, two potential areas of interest for the Eagles in April's draft, took the field at Lucas Oil Stadium, to workout for scouts. Here's a look at the results from some of the bigger names.
Combine Report: Offensive Linemen & Tight Ends
Jason Smith/OT/Baylor: Smith was quite impressive and could leave Indianapolis at the draft's top-rated tackle. He measured 6-feet, 5-inches and 309-pounds. Smith completed 33 repetitions of 225-pounds on the bench press, much better than expected. He ran his 40's in just about 5.10 seconds and looked very good in position drills. Smith was always considered one of the better athlete's of the offensive tackle class but his bench press strength elevates his draft stock.
Eugene Monroe/OT/Virginia: Monroe was not all too impressive during the testing portion of the combine as he weighed 309 pounds, was only able to complete 23 reps on the bench then ran his forty's in times of 5.22 and 5.14. He was very impressive during the practice session though, displaying good movement skills, athleticism and great quickness. Monroe looked like a player on the field and to his credit worker hard through the entire practice session.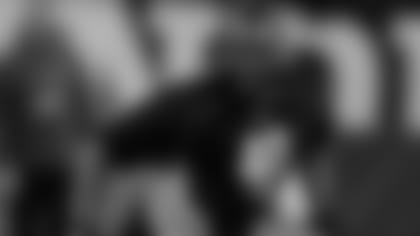 Ole Miss tackle Michael Oher
Michael Oher/OT/Mississippi: Oher was quite similar to Monroe as he too was awful during the testing portion but pulled it together during the practice session. Oher measured just 6-feet, 4-inches, which may pose a problem for some height conscience teams who want their tackles to be above 6-feet, 5-inches. He completed just 21 reps on the bench and barely broke 5.2-seconds in the forty. But like Monroe he also showed much better football skills than athleticism during the practice session.
Andre Smith/OT/Alabama: Once considered potentially the first pick of April's draft, Smith is dropping faster than an anvil thrown out of a fifth-story window. Immediately before the second group of offensive linemen were about to start their workout an official announcement was made stating Smith had left the combine headquarters unannounced. After a long search, Smith was found 30 minutes before the workout began. The announcement went on to say Smith and his agent were giving conflicting stories as to the reason of his disappearance. Sources later said Smith's interviews with teams have been going horribly. He's been inappropriately dressed and has been giving a number of conflicting statements as to why he was choosing not to work out at the Combine. Several offensive line coaches have already suggested Smith be removed from their team's draft board.
Brandon Pettigrew/TE/Oklahoma State: Pettigrew's day paralleled that of Monroe and Oher; he tested poorly but practiced well. Pettigrew was unable to crack the 4.8-second barrier in the 40, even though he requested then received a third opportunity to run. He completed just 22 reps on the bench -- a poor number for a 260-pound tight end. Pettigrew did catch the ball well and practiced much faster than he timed in the 40. More impressively, besides running the 40 three times he took extra reps on the field when he thought he had not properly completed specific drills. In the end he looked like a good football player.
Shawn Nelson/TE/Southern Mississippi: Nelson looked solid from start to finish. He completed 19 reps on the bench; not great yet not horrible for a 240-pound tight end. He then ran times of 4.56 and 4.50 in the 40 and caught the ball very well during the practice session.
Some other players of note:
Jared Cook/TE/South Carolina: Cook timed in the low 4.4-second area on both of his 40's. He did not participate in the pass-catching workout because of a quadriceps injury but no scouts are worried about his hands.
Jamon Meredith/OL/South Carolina: Completed 31 reps on the bench press, better than anyone expected. He later his 40's in a combined time of 4.89 seconds after weighing in at 304 pounds. Meredith later displayed good footwork, quickness and athleticism in the workout.
Phil Loadholt/OT/Oklahoma: Loadholt's 40 times were not impressive (5.4 seconds) yet his workout stood out. He looked very athletic and moved exceptionally well on his feet. Loadholt is looking like a solid right tackle prospect.
Tony Pauline has been the NFL draft analyst for SI.com since 2002. He's also been a draft contributor for PhiladelphiaEagles.com. Tony is also owner of **TFYDraft.com* a site solely dedicated to the NFL Draft 12 months a year.*