The Eagles need to get back on track after Sunday night's loss to the Giants. They travel this weekend to Cincinnati to take on the league's worst offense. But it's certainly not going to be an easy one. The Eagles know they need to improve their rushing attack (22nd in the NFL) and the Bengals have played two NFC East teams close already including an overtime loss to the Giants. It's time to focus on the X's and O's in this week's Coach's Clipboard ...
MORNHINWEG: NEED MORE BUCK*
On the heels of two consecutive disappointing games on the ground, it was Marty Mornhinweg's turn to address questions about what exactly is going wrong.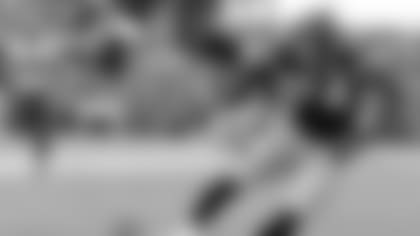 RB Correll Buckhalter
The offensive coordinator didn't go into specifics, but he said there were multiple things preventing the Eagles from getting Brian Westbrook into space and allowing him to make plays.
"We're accustomed to running the ball well, especially situational. We are accustomed to having a pretty good yards-per-carry. We're not doing that right now," Mornhinweg said. "If there was one reason, those are easy to correct, and I'm not going to go into detail on everything. However, there are several things that we need to get better at there to have a good running game."
Westbrook has combined for just 87 yards on 33 carries in his last two games, denying the Eagles an opportunity to get things going. But Westbrook has expressed a desire to get into a rhythm early, so he can establish himself before the Eagles are playing from behind.
Under Andy Reid, the Eagles have always been a big-play, pass-first offense, but during their peak years they achieved great success in getting more from their fewer carries. Instead, their 4.0 average gain per rush this year is pedestrian compared to the rest of the NFL.
"We're always committed to the run. Now, there are some situations where people are doing everything that they can to take the run away and we'll do other things," Mornhinweg said. "There are situations where we are going to throw the ball first."
One solution might be to get Correll Buckhalter involved more, both in providing a complement to Westbrook in addition to keeping Westbrook fresh. But though Buckhalter gained 20 yards on his first touch against the Giants last Sunday, the Eagles only went to him one more time, partly as a result of their inability to establish Westbrook in the first place.
Should the Eagles get a running game going, Buckhalter could see more touches, and they might be able to get Westbrook and Buckhalter in the backfield at the same time.
"(Buckhalter) should play more. There is no question about that. We should. That's first. Second, when we have Brian available and he's not fatigued, that's a hard thing to substitute for Brian," Mornhinweg said. "We do it situationally … But he should play more, and we are going to try and do that."
JOHNSON: NO TIME TO MOPE, BENGALS HITTING STRIDE
After listening to Jim Johnson's regular press conference on Thursday, it would be easy to be convinced that the Cincinnati Bengals were 8-1 rather than 1-8.
"They're a different team," Johnson said. "If you watched that game against a good Jacksonville team, a good defense and Cedric Benson had over a 100 yards rushing. They threw the ball well. The quarterback scrambled. They took the first couple drives, go down the field and it's 14-0. So all our guys have to do is look at that tape and say, 'Hey, they're playing pretty good right now.' And it can be a tough place to play."
The Bengals boast three potent receivers, an elusive quarterback and a revamped running attack.
To hear Johnson tell it, the Eagles defense will have their hands full when they face the Bengals at Paul Brown Stadium on Sunday afternoon. However, if any team can counter a three-receiver set, it's the Eagles.
"You face three real good receivers," Johnson said. "You face (Chris) Henry, T.J. (Houshmandzadeh) and Chad (Ocho Cinco). You see a couple guys that really have great speed on the outside. You got a guy like T.J. that has great inside moves. They'll be on the field. I would imagine those three receivers will be on the field 60-70 percent of the time.
"(Chad Ocho Cinco) is such a big-play guy, (opposing defenses) double-cover him quite a bit. He's a deep threat and people are playing two-deep with a safety over the top helping them out. Sometimes when you do that, you have No. 84, T.J.'s the inside slot guy and he gets a lot more passes like a tight end."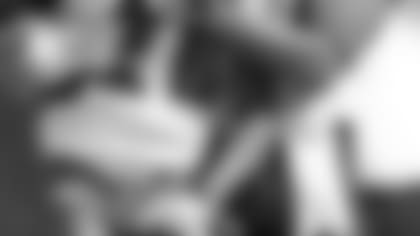 WR DeSean Jackson
Johnson also praised Bengals quarterback Ryan Fitzpatrick, who will start for the sixth time this season in place of Carson Palmer. The two-time Pro Bowl quarterback is out with an elbow injury.
"It seems like he's running the ball a lot better," Johnson said. "I can't remember him running the ball that well. He's running the ball; if the receiver's not open he takes off. (T.J.) is their leading receiver on third down because they're running the football. They're converting third downs because (Fitzpatrick's) running the ball. It's a problem and it will drive you nuts."
After getting gashed by the Giants and their running game last Sunday, Johnson said the Eagles don't have time to feel sorry for themselves.
"I think you appeal to their pride," Johnson said. "I think they're down as far as their pride. I think this defense has pride and I think they're down after a loss but you move on. The challenges coming up with a Cincinnati team (that's) all of a sudden playing pretty good."
- STEVE LIENERT
SEGREST: VAST IMPROVEMENT IN RETURN GAME
At the end of the 2007 season, one of the areas where the Eagles needed to improve the most was the return game.
J.R. Reed and Correll Buckhalter split kickoff duties as the Eagles ranked 19th in starting field position. Reno Mahe took over after the first game and finished 17th in the league.
This year, the Eagles used a pair of high draft picks - a second-round selection on DeSean Jackson and a fourth-round pick on Quintin Demps - and the moves have paid off.
Demps has helped the Eagles inch into the top 10 of starting field position. The longest kickoff return the Eagles had last season was 35 yards. Demps returned one for a touchdown in the preseason and has nearly broken one in the regular season with a long of 63 coming against the 49ers. His 24.9 average per return is the fifth-best in the conference.
Meanwhile, Jackson is ranked fifth in the NFC in punt return average and took a 68-yard return to the house against the Redskins.
Special teams coordinator Rory Segrest said the difference is in the experience.
"We've got some guys back there that are very capable runners," Segrest said.
While both Demps and Jackson are rookies, they handled the return duties in college. Demps averaged 22.4 yards on 22 kickoff returns at Texas El-Paso while Jackson set a Pac-10 record for six touchdowns via punt returns.
Segrest also paid compliments to four defensive players who have assisted greatly in improving the special teams this season - linebackers Tank Daniels, Akeem Jordan, Tracy White and safety Sean Considine.