When defensive end Chris Clemons woke up Sunday morning prior to the Eagles' regular season finale against Dallas, he had a strange feeling in his bones.
It wasn't a feeling of dread or impending doom; it was just the opposite.
Clemons had a feeling that it was going to be a good day.
"Going into the game, I had this feeling," Clemons said. "I don't know where that feeling came from. It's a feeling that I've never felt before. After that, things just started rolling and the defense got off to a great start. We knew that if we hit (Cowboys quarterback Tony) Romo, he'd be a different quarterback. That was our game plan going into this week; (it) was to get the line, keep the running game down. That was one of the things we started out early in the game, started applying pressure."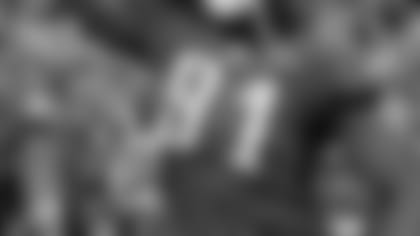 DE Chris Clemons celebrates his TD
That pressure forced the Cowboys to crack as the Eagles defense forced turnovers on five consecutive series. Free safety Brian Dawkins forced two fumbles and had a sack, cornerback Sheldon Brown had an interception and Clemons added two sacks and a forced fumble himself.
One of the Dawkins' forced fumbles ended up in Clemons' hands and he sprinted down the right sideline for a 73-yard touchdown.
"My eyes never really got wide," Clemons said. "It's part of the game. You always have to be aware of your surroundings and once the ball got in my arms, the only thing I saw was the end zone. And I saw 23 (Cowboys running back Tashard Choice) at the end of it."
Even though Clemons had a convoy of blockers with him, Choice outran everyone and caught up to Clemons at the Cowboys' 10. Clemons, however, was not to be denied. He planted a stiff-arm right into Choice's grill, shed the would-be tackle and stumbled into the end zone.
The fact that Clemons knew exactly what to do after getting the ball was no accident.
"We practice it all year long," Clemons said. "We practice it every day stripping the ball, interception, going down the sideline, everybody blocking. When those opportunities present themselves you've got to capitalize on them."
Clemons wasn't speaking individually; he was also talking about the team. Clemons said the recurring theme of the last week of practice was "You Gotta Believe."
"We knew we had to believe to be able to have a chance to go out and play this game," Clemons said. "It could have been a game where it actually meant nothing but to beat the Cowboys. We knew it was a big game after watching those early games."
As strange a journey as it has been for the Eagles, it's been even stranger for Clemons. Coming out of training camp, the free agent acquisition from Oakland seemed to be the odd man out on the defensive line rotation.
Instead of being dejected, Clemons went to work.
"It was my fault what happened in training camp," Clemons said. "I didn't come into camp in the shape I should have been in. Andy (Reid) had to do what he had to do. Jim (Johnson) had to do what he had to do. I kept working and as the season went on, I kept working and kept working. They saw me work and they saw I was getting into a position where they know I could play. When they gave me that opportunity I took advantage of it."
It led to Clemons' good feeling on Sunday morning.
"It was one of the biggest days of football in my life," Clemons said. "After overcoming all the things that I've been through, to be able to go out and play the way I did, to be able to play with the guys and just take over a game, you can't ask for more than that.
"This is my first time I'll actually be able to play in the playoffs. The year we went to the playoffs in Washington, I was on IR because I had a knee injury the game before we played Philly. Just to be able, like I said, to go out and play with the guys feels great."