Sometimes, life has a strange way of coming full circle.
In his first college game, playing for Virginia, Chris Long and his teammates faced the Temple Owls at Lincoln Financial Field. A few years later, he was suiting up to play in his first NFL game, once again at the Linc, as the Rams went head to head with the Eagles in 2008.
"My first pro game was against the Eagles, and I just saw Tra (Thomas)," Long recalled about the 38-3 win for the Eagles. "I was lined up in front of Tra and I was like, 'What the hell did I get myself into?' I was chasing around Donovan McNabb all day. ... But all I can remember is the fight song, and I just remembering thinking throughout my career I'd really love to play in a city like that, that's got that kind of atmosphere."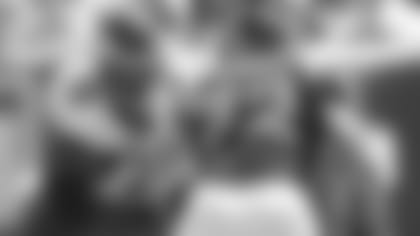 Now inked to a two-year deal, Long is excited to revisit the place he's become so familiar with throughout his football career – this time as a member of the Philadelphia Eagles.
The defensive end spent the first eight seasons of his career in St. Louis before moving to New England last year. Part of the Patriots' Super Bowl LI team, Long played over 60 percent of defensive snaps during the 2016 campaign.
While he was a big part of the championship run, Long didn't feel the scheme in New England was best suited for his skill set. Finding a better football fit was the veteran's goal during free agency, and he feels he did just that by signing with Philadelphia.
"At the end of the day, I had to follow my heart," Long said. "I've always done that in football and in life. For the most part it's served me well. Sometimes it gets me in trouble, but I think for me I just wanted to be in a situation where I was able to be proud of what I put on the field every Sunday and I think every team has a chance to compete for championships at the beginning of the season. It's no forgone conclusion if you go anywhere that you're going to do anything.
"When I figured out there might be an opportunity for me to come to a great situation like this with a team on the rise and a lot of excitement in the building and a chance to compete, to have a role like the one I was looking for, that was where I wanted to be."
With the contract signed, Long is now ready to get to work and looking forward to building something special with his new teammates in the city where he's already had so many firsts.
"For me, the number one thing when I went into free agency was to find a good football fit, and schematically I think it works really well for my skill set and what I've done in my career," Long said. "I love this city. My folks went to school here. My wife's from South Jersey. So, I know the area well. I'll learn it a lot better. Football-wise and family-wise it's really perfect for me."
Go behind the scenes as the newest Eagles arrive at the NovaCare Complex, sign their contracts, and more.