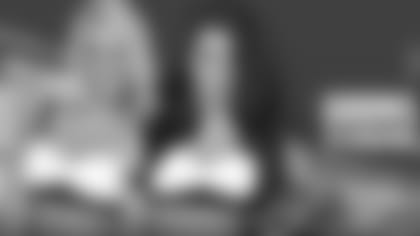 Two Philadelphia Eagles Cheerleaders are headed to Korea, Singapore and Diego Garcia to spend Super Bowl Sunday with members of the United States Armed Forces. Mandi, a third-year member of the squad, will spend 10 days at military installations in Singapore and Diego Garcia, while Victoria, a second-year member of the squad, will travel to military installations in Korea. During the goodwill military tours, they will have the opportunity to perform for the troops and personally thank the service members for their bravery and sacrifices. They will also learn more about military life while staying at the installations.
The cheerleaders are especially looking forward to bringing a part of the beloved experience of the NFL to members of the military on Super Bowl Sunday.
"Super Bowl Sunday is a day when families come together in America, it's a tradition," Victoria said. "I can only imagine how much the members of the military will be missing the comfort of home on February 7th, being stationed thousands of miles away. I'm excited to watch the big game with them and to convey how much we all appreciate what they do each and every day to keep us safe. We have the freedoms that we do because of the daily sacrifices they make."
"My grandfather served in the Air Force and I've always had great respect for the brave men and women that serve for our country," shared Mandi. "As an Eagles Cheerleader, I've visited with many active service members and veterans here in the United States including many whom have been severely wounded. I am always in awe of their courage and heroism and I'm humbled to have the opportunity to spend time with the service members stationed in Singapore and Diego Garcia. I'm also a kindergarten teacher and I can't wait to distribute all of the handmade cards my students created for the troops."
The Eagles Cheerleaders are very active in supporting military appreciation efforts year-round, internationally and regionally. They have traveled previously to Iraq, Kuwait, Bosnia, and Kosovo and were nominated in 2014 for the NFL Salute to Service Award for their exceptional efforts in honoring U.S. service members, veterans and their families.
The tour was assembled by ProTour Productions in coordination with Armed Forces Entertainment. Armed Forces Entertainment is an Air Force command operation and is the single point of contact with the Department of Defense for providing entertainment to United States military personnel serving overseas. Entertainment is provided to the Army, Navy, Marine Corps and Coast Guard. AFE hosts more than 600 shows each year reaching more than 400,000 personnel at 371 military installations around the world. ProTour Productions is an entertainment company that was built on providing entertainment to the military to boost morale and produces first class entertainment to venues and military bases all over the world.