Sheldon Brown is acutely aware of the business side of football.
That's why he was able to detach himself so quickly following the Eagles' gut-wrenching loss to the Arizona Cardinals in the NFC Championship Game.
Even though the team, especially the defense, came together and played for each other in a deep, profound way, it must brace for the inevitable changes that come with every NFL offseason.
It's a fact that isn't lost on Brown.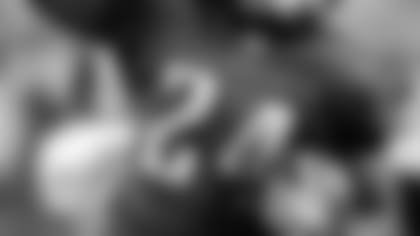 CB Sheldon Brown didn't give up a touchdown in the regular season
"I go back to the training camp days," Brown said. "There's a lot of guys that sacrificed and put forth the effort, played with heart through critical times. It's a shame that in this league, you can't go to battle with the same guys year-in and year-out but that's the deal."
While it was the Eagles' fifth trip to the conference title game in eight years, it was Brown's fourth trip to the cusp of the Super Bowl in six seasons.
His record is 1-3 in those games and even though the feeling he had was familiar, it didn't make it any easier to take.
"They all hurt the same," Brown said. "It's all tough. There will be another team feeling they way we feel (on Sunday night)."
Brown had another consistent season with the Eagles, recording 55 tackles to go along with an interception and a forced fumble. Looking at it more closely, however, Brown was thrown at 62 times in 2008, but he gave up just 23 receptions for 265 yards in the regular season according to Stats, Inc. Perhaps more importantly, he didn't give up a touchdown.
Among corners that were thrown at more than 50 times, Brown gave up the fewest receptions. He's played in 123 consecutive games, second only to Tampa Bay's Ronde Barber (185) among active cornerbacks.
He also helped make the defense, which was ranked as low as 22nd in the league at one point during the season, into the NFC's best. The Eagles finished the regular season ranked behind only Baltimore and Pittsburgh in total defense.
"We accomplished some good things," Brown said. "We did some things well. Unfortunately, we didn't get to the big game, which was the ultimate goal. On paper it was expected to do what we did. So there's really nothing to brag about. Just go back to the drawing board and give it another run next year."
Without getting to and winning the Super Bowl though, all those accolades amount to a hill of beans for Brown. With fellow 2002 draftee and locker neighbor Lito Sheppard's status in the air and cornerback Joselio Hanson and safety Brian Dawkins listed as unrestricted free agents, Brown knows that change is in the offing.
He just hopes those changes lead his team to the Promised Land.
"The ultimate goal for us is to win the big game," Brown said. "Other than that, I always believe in the guys I play with; never count them out. As you can see, guys that do leave here go on to other places and they're successful. They know how to lead. They lead by example and how they play."
For now, though, Brown is only worried about what he can control, which is how he handles his own business during the offseason.
"I just worry about my job, my responsibility and preparing my body to play for whoever still thinks I can play the game for them," Brown said. "I really don't worry about the business side from the organization standpoint. I just worry about the player side for me, preparing myself for a season.
"I think about where Sheldon Brown will be. That's what's important to me."