It's been a busy few days as Training Camp has really ramped up with the New England Patriots coming to town. It's rare that you get to work against a different team in a game situation, which is great for us with so many new players and a brand new coaching staff. You don't want to jump right into the first preseason game and then find out how everyone's going to jel together, so this gave us a couple days to come together as a team and work on the little things that we need to work on.
Plus, it's just great to go against somebody else. We've been going against our own teammates for over two weeks now, so breaking up that monotony has been welcomed.
We also got to practice against a different scheme, which is a great thing. We've seen our defense for so long, you kind of get used to what they're doing and how they react to certain things we do on offense. With a different team coming in, you get to see what they're doing against certain matchups in whatever type of defense they're running, whether it's a base defense or sub-package. We'll see so many different types of defenses and personnel during the season, it's good to get a feel for how we'll react when the regular season comes.
But first thing's first, we've got the preseason. Some people may find the preseason tedious, but I love it. First of all, that's what you play football for – the games. You put in all this hard work and you understand that it's necessary to come in here and grind every day and work on the little details just so you can be successful in the games. When it gets to game time, that's the players' time. That's when it's time to let loose and show what you can do because that's when it counts.
You can come out here in practice and do great, but when you into game time and there are real bullets flying and the lights are on, that's when you really want to show up and you want to shine and show the coaches what you can do because at the end of the day, that's what's most important. You have to win football games, you have to go out there and make plays when it counts.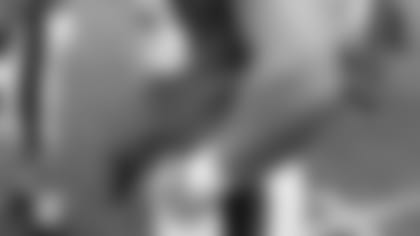 But I also love the preseason because I remember how much it helped me get where I am today. The Houston Texans picked me in the fifth round of the 2009 NFL Draft, so I still had to prove myself just to make the roster. I remember my first preseason game vividly. We were playing in Kansas City against the Chiefs and it was my first time in an NFL stadium and playing in front of so many fans. I went out there and got to play a lot, since the young guys play the majority of the first game. I went out there and made a good catch and I remember how relieved I was to get the first catch under my belt. Then I got my first tackle on special teams.
I love all these games, especially the first one and the fourth one. Most people stop paying attention when the starters come out, but to the players on the field and their families, the games mean so much. It means everything to them. It's their Super Bowl. I've been there, where you're fighting for your job every single day.
My first two years in the league, I had the fortune to be mentored by veteran tight ends like Owen Daniels and Joel Dreessen. That's why I feel it's part of my job to help give advice to our young tight ends. There are seven of us in the tight end meeting room and only three of us are veterans (Brent Celek, Clay Harbor and myself). It's just your responsibility. It's your tight end group. You're on the same team competing against each other but you want to help those guys with whatever you can ehlp them out with. If I see something that they're doing that I've had problems with early on in my career or something, I'll definitely point it out to them. But they're great players, they don't really need a lot of help from me. We're all trying to help each other out as tight ends.
That's why I've been working after practice with Derek Carrier. We just work on little things, little techniques that we're trying to perfect. We've still got a little while before the season starts, so you want to make sure you get those things set in stone so when the season starts, you know exactly what you're doing and you feel comfortable with all the different route concepts. Coach Kelly likes to say that if you do something for 15-20 minutes every day, eventually you're going to get really good at whatever it is you're working on. We've tried to take that to heart.
There's one other thing I like to work on after practice, just in case – long snapping. You never know what will happen, so I always try to keep a little bit of that just in case of an emergency or, who knows, for down the road in my career. We already have some really good deep snappers on the team, obviously Jon Dorenbos is great and Brent (Celek) is the backup. But I've been practicing my long snapping every year I've been in the NFL, just trying to get better and better each year. If I ever need it, I hope to be prepared just in case.