From the moment that he joined the Eagles, head coach Chip Kelly has stressed the importance of competition. From the players at the top of the depth chart to the last man on the roster, Kelly had every Eagle playing for their job from the time Training Camp began up until the Wild Card playoff game against New Orleans.
On Friday, the Eagles officially added another element of competition to the team's secondary, signing free agent cornerback Nolan Carroll to a two-year deal.
"Coach Kelly told me that I'm coming in and competing for a starting spot," Carroll said at his introductory press conference. "Helping out on special teams as well and whatever other roles come up that I need to do, I'm willing to do that. I've done that for four years while I was at Miami, so I'm just coming in with an open mind, ready to help this team win.
"I feel comfortable that I can come in and make the group better. Competition just makes everybody else better. It's not just about one guy, it's about the whole group, and right now I am just trying to help the defense, and everybody will help each other on that side of the ball."
At 6-foot-1, Carroll joins Cary Williams and Bradley Fletcher (both of whom came to the Eagles from last season's free agency class) as long-limbed defenders on the outside. As receivers around the NFL keep getting bigger and stronger, Carroll knows that having length at the cornerback position goes a long way.
"Guys are 6-foot-4, 6-foot-5, some of them 6-foot-6, and you've got to be able to have the length on the outside to deal with it," Carroll said. "If you look at those guys in Seattle, those guys just have the length. Those guys are 6-foot-3 and they've got long arms. Those are things that you want on the outside to disrupt the timing for receivers in their routes and to be competitive on the outside and not just give free access to throws. That's what we're doing - me, Bradley and Cary, we're all lengthy guys, so we're going to get our hands on receivers and do what we need to do to be competitive."
With Brandon Boykin having a breakout season as the slot cornerback in 2013, the Eagles defensive backfield will surely be ultracompetitive by the time this year's Training Camp comes around. Though Carroll wants to win a starting job, it wouldn't be the end of the world if he became a role player. As long as he is helping the Eagles win, individual success takes a backseat.
"I'm coming in and doing whatever role is needed from me," Carroll explained. "If I come in and compete and I don't get the job, then I just have to find my role on the team to help us win. I'm not going to be frustrated or disappointed. As long as I go out and do the things that I need to do to help the team out, that's all I'm worried about.
"It's not about individual success right now, it's about the team's success, and that's what I'm here to do, help the team win."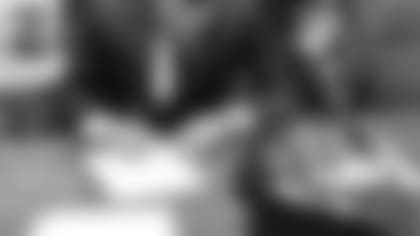 Aside from the term competition, "versatility" is another one of the most-used words from the Chip Kelly football dictionary. He's made it clear that he wants players who aren't just good at one thing and one thing only. Carroll fits that bill. The fifth-year pro first made a name for himself with the Miami Dolphins playing special teams, something that he's comfortable doing if it's asked of him in Philadelphia.
"That's basically how I made my living my first couple years in the league - it was special teams," Carroll said. "I think it was either my first or second year when I did it the most. Once I started playing more on defense, that role kind of diminished a little bit, but I was still doing things on special teams as far as being a jam-up guy against gunners, kickoff return being a safety, punt block, field goal block - I did everything on special teams because that was my job. That's what has kept me in the league for so long."
It also just so happens that the man who will be coaching Carroll, if he is indeed asked to play on special teams with the Eagles, is a familiar face to the 27-year-old.
"My special teams coach in Miami was Dave Fipp, and Coach Fipp came over here to the Eagles," said Carroll. "I'm familiar with a lot of stuff that is asked upon guys like me on defense to go out on special teams and contribute. He knows what he expects from me and I know what to expect from him, as far as what he wants me to do and my roles on special teams. Like I said, I have no problem doing whatever type of role they want to give me."
Carroll told reporters that there were a number of teams that were interested in his services, including the Dolphins, but that the Eagles were the best fit for him. Plus, the University of Maryland alum had heard tremendous things about the organization from a fellow Terrapin who once donned the midnight green.
"Moise Fokou was on this team for a couple of years, and he spoke highly of this organization," said Carroll. "Ever since I came into the league, he's always spoken highly of the organization and how they do things, so I feel more comfortable coming here just because I had an inside track on how things were done around here, and the people of the city and how they embrace you, so I feel pretty good coming here."
Only time will tell exactly what role Carroll will have on the Eagles defense, but one thing is for sure: the newest Eagle is excited for his career in Philadelphia to take flight.
"Ultimately when I researched it, this team made the most sense - an up-and-coming team on the rise, a playoff team last year, and they're only looking up," Carroll explained. "When I toured the facility and talked to the coaches and talked to other people that view this organization in a high standard, and when it came down to it, talking to my agent, talking to my family, this just made sense to be in the best possible situation for myself.
"I like the atmosphere that is here with Chip Kelly and what his philosophy is for this team, and I'm excited. They've got me excited. Just being around here in this building, listening to everybody around here, meeting different people, I'm happy to be a part of this organization."