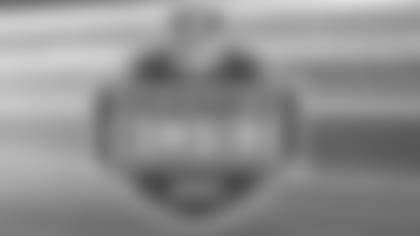 Cornerback Nnamdi Asomugha ... monster new deal. Free safety O.J. Atogwe ... franchised. Linebacker Karlos Dansby ... franchised. Offensive tackle Jordan Gross ... monster new deal. Linebacker Leroy Hill ... franchised. Running back Brandon Jacobs ... franchised. Defensive end Julius Peppers ... franchised. Tight end Bo Scaife ... franchised. Linebacker Terrell Suggs ... franchised.
Running back Darren Sproles, wide receiver Antonio Bryant and cornerback Dunta Robinson ... yep, all franchised.
One by one, a lot of the upper-echelon players who were about to hit the free agent market on Feb. 27 all were slapped with the franchise tag. Two of the players mentioned above signed lucrative new contracts.
Free agency just got a whole lot duller, folks. Now, the top free agents about to hit the market appear to be Titans defensive tackle Albert Haynesworth, Bengals wide receiver T.J. Houshmandzadeh and Ravens linebacker Ray Lewis.
The deadline for using the franchise tag came and went for the Eagles. A year ago, they used the tag on L.J. Smith but decided to not place it on anyone this time around.
Talking to reporters - both local and national - at the Combine in Indy on Thursday, I asked around what the Eagles should do in free agency with the windfall of players to be removed from the market.
In regards to T.J. Houshmandzadeh, the reaction was mixed. Some reporters believe that while he's a good receiver, he's not more than what the Eagles already have. Some reporters think, however, that he would be the perfect complement to DeSean Jackson.
Of course, Eagles fans must have groaned over NFL Network Adam Schefter's report that Cardinals receiver Anquan Boldin is open to signing a long-term deal with Arizona. There were reporters here at the Combine who were skeptical not so much of the report, but of Boldin's honesty. All of the reporters I talked to said that if Boldin were available via trade, it's a deal the Eagles would need to try and find a way to do.
I haven't scoured the free agent list enough to try and seek the curveball that the Eagles usually add each year. Last off-season, it was the signing of Chris Clemons. I mean how does a guy who led his team in sacks and is still young in a league hungry for pass rushers go under the radar? Simple. He played for the Raiders.
The workouts don't begin until Saturday, but the media availability for the offensive linemen and tight ends took place today. Obviously, the tackle position is going to come into focus over the next couple weeks. Will the Eagles re-sign Tra Thomas, which seems to be the sentiment of the reporters here? There are a number of good pass protectors in this year's draft. But will there be one at the end of the first round who could potentially step in and play immediately? It'll be interesting to see what the Eagles plan to do here.
Tight end is another obvious need for the Eagles with Smith about to hit free agency. Brandon Pettigrew from Oklahoma State is a complete package in terms of pass catching and blocking. The question is will he be available at No. 21? And if so, would the Eagles use a first-round pick on the position? Nothing seems to be out of bounds at this point. Another tight end that Tony Pauline from SI.com said to keep an eye on was Shawn Nelson of Southern Miss. Pauline said he's got L.J. Smith's athleticism but is also a football player.