When the Eagles dealt the 28th overall pick as part of the package to acquire two-time Pro Bowl left tackle Jason Peters from the Buffalo Bills, many assumed that meant there was no chance that a veteran wide receiver would be added.
Then Eagles president Joe Banner chatted with the Philadelphia reporters following Peters' introduction at the NovaCare Complex on Sunday and he threw out this tasty little morsel regarding the possibility of trading for an experienced wideout.
"We're always looking for players that we think can make us better," Banner said. "I think we've proven many times that we'd be willing to do what it takes, whether it be a trade or do something with somebody's contract in order to get them here."
Wide receiver certainly isn't a need for the Eagles. From top to bottom, the depth at the wide receiver position is the strongest in the Andy Reid era. There isn't a Pro Bowl receiver on the roster, but DeSean Jackson showed a lot of promise as a rookie catching 62 passes for 912 yards and a pair of touchdowns.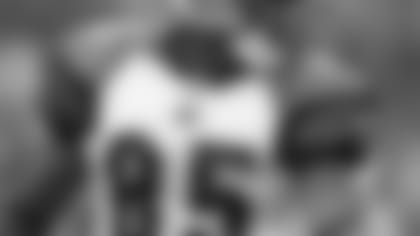 Donovan McNabb would love Chad Ocho Cinco in midnight green
But the Eagles have been known to throw a curveball or two on occasion. In 2007, who would have thought that the Eagles' top pick would be a quarterback? Last year, who would have imagined that the Eagles would trade out of the first round for the second straight year?
But who is available? What would it take to get him in midnight green? Eagles World would certainly bust out of the seems if any of these players were obtained.
Anquan Boldin, Arizona Cardinals - Boldin has insisted since last year that he wants a new contract. The Cardinals took care of his teammate Larry Fitzgerald, but have not shown Boldin the money. The Cardinals at first declared that Boldin was not on the trading block, but head coach Ken Whisenhunt said that the team would listen to offers.
Boldin has been ultra-productive. In six NFL seasons, Boldin has caught 502 passes for 6,496 yards and an eye-popping 40 touchdowns. Last year, Boldin missed four games and still had 89 catches for 1,038 yards and 11 scores.
The knock on Boldin is that while he is a physical receiver who makes all the tough grabs and is great after the catch, he doesn't have the speed to stretch the field. If the Eagles already have Jackson and Curtis to stretch the field, Boldin would do all the dirty work underneath.
In addition to giving Boldin a new deal, the Cardinals are looking for a first-round pick and a mid-round pick. Reports indicate that the Ravens have offered a high pick and a player, but will not part with two picks. The Ravens only have a total of six picks in this weekend's draft.
The Eagles certainly have the ammo to pull off a deal. Banner told Dave Spadaro on Sunday's Eagles Live! that the Eagles still have room under the salary cap. Plus, the Eagles have 10 draft picks including their own first-round pick. However, would the Cardinals deal Boldin to the team that almost beat them in the NFC Championship Game last season?
Braylon Edwards, Cleveland Browns -How does a receiver with so much talent drop the ball so often? The Cleveland Browns wonder the same thing and have put Edwards on the trading block. A focused, determined Edwards caught 80 passes for 1,289 yards and 16 touchdowns in 2007. Edwards rested on his laurels in 2008 and had 55 grabs for 873 yards and only three scores.
Edwards, the No. 3 overall pick in the 2005 draft, is nearing the end of his rookie contract and will seek a contract worthy of an elite receiver. Despite his penchant for dropping the ball, Edwards had four receptions of more than 40 yards and 15 catches of 20 yards-or-more. At 6-3 and 215 pounds, Edwards has amazing size and athleticism. He is a home-run hitter, when he catches the ball.
The Giants have been the most aggressive at pursuing Edwards, who would be a more-than-adequate replacement for Plaxico Burress. Again, the Browns appear to be seeking a first-round pick and a mid-round selection. However, reports indicate that the Giants have dangled a draft pick and a player but the player wasn't what the Browns desired.
If the Eagles were to deal for Edwards, that would obviously make a receiver expendable. The Browns appear to be looking for a pass rusher, but it's unlikely the Eagles would want to part with any of their own for a receiver.
The Eagles do have a better first-round draft pick than the Giants do (No. 21 vs. No. 29). Don't be surprised to see Edwards traded on draft day. If the Browns can select Michael Crabtree from Texas Tech with the fifth-overall selection, Edwards would most likely then be dealt.
Chad Ocho Cinco, Cincinnati Bengals - Ocho Cinco tried to get out of town last season and it didn't work even though the Redskins reportedly offered two first-round picks.
It surely didn't help the Bengals that Johnson battled through a shoulder injury, didn't have his Pro Bowl quarterback and caught just 53 passes - the fewest amount since his rookie season. Ocho Cinco is 31 years old, but had six consecutive seasons with 1,000 yards-or-more before last season.
At this point, the Bengals have to decide whether to pull the trigger on a deal. Ocho Cinco has not reported for the off-season workout program and former teammate T.J. Houshmandzadeh told NFL Network that Ocho Cinco is "crying" to get out of town.
Even with just 53 catches, that would have been second on the team among Eagles wide receivers in 2008. And to tout his big-play ability, Ocho Cinco has had at least one catch of 70 yards-or-more in five of the past seven seasons. It doesn't hurt that Ocho Cinco and Donovan McNabb are close friends. Remember McNabb threw to Ocho Cinco in the pre-game warmups when the Eagles played at Cincinnati last season.
At this point, the Bengals will likely only get a first-day pick for Ocho Cinco. The Eagles, of course, have their first-round and second-round picks. Ocho Cinco's charismatic personality is something the Eagles have to weigh, but after trying to pry Randy Moss in free agency last season it is obvious that the Eagles will not shy away if they believe Ocho Cinco is a person of good character who will make this team better.
Head coach Andy Reid was asked throughout the off-season in a joking manner whether he would definitely use one of the Eagles' two first-round picks in the upcoming draft. With one already dealt to the Bills for Peters and the possibility of adding a veteran wide receiver, it's no surprise that Reid didn't offer a guarantee.