Nick Foles and the Eagles offense were rolling. Foles' first drive of his first start under head coach Chip Kelly began at the team's 5-yard-line. On his first play, Foles calmly waited in his own end zone for someone to get open before eventually throwing the ball away, after which he drew a roughing the passer penalty, giving the team a first down.
Seven (including one that was called back for a Jason Avant pass interference penalty) completions later, Foles led the offense into the Panthers' red zone on a drive that had traversed 87 yards, 53 of which came through the air. Then, though, Foles committed a costly mental mistake after mishandling his second shotgun snap of the drive. Upon picking up the ball off the ground, Foles scoured the field and lofted the ball to the back of the end zone in the direction of a double-covered DeSean Jackson only to watch helplessly as the pass was intercepted by Panthers cornerback Josh Thomas.
Foles explained following the game that he was attempting to throw the ball outside the back of the end zone, but wasn't able to get enough on it as he was being pressured.
On his second drive, Foles bounced back with aplomb in an unexpected manner. His legs took over. Helped in large part by a sparkling 21-yard run by LeSean McCoy, Foles scampered into the end zone from the 7-yard line after running for six yards earlier in the drive. For the second straight week, Foles' night consisted of a first-drive turnover and a second-drive touchdown.
"They did a good job covering it. I went through my read progression. I saw an opening so I took it. I was still looking to throw and they did a good job and then (Riley Cooper) was on the edge and made a great block," Foles said of the touchdown. "I just kept it and took it into the end zone."
Next it was Mike Vick's turn.
Like Foles, Vick started out nearly perfect, completing his first four passes. The most impressive of those passes came on a 3rd-and-12 when Vick looked off the secondary and fired the ball at the top of his drop, threading the needle to Jason Avant, who picked up the first down. Unfortunately, that first Vick drive would end on a fumble by Chris Polk.
Again following in Foles' footsteps, Vick would take advantage of drive No. 2. Starting at the 26-yard-line with three minutes remaining in the first half, Vick fired off two pretty first-down passes to DeSean Jackson in the hurry-up offense. In a throwback to the Vick of 2010, the quarterback then eluded the pass rush before rolling left and finding Riley Cooper for a 22-yard gain.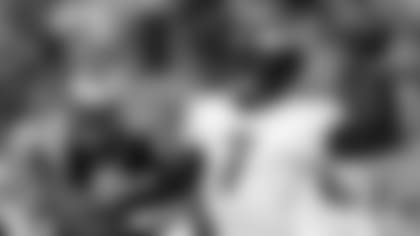 Next, Vick unleashed the power of his legs for the first time, scrambling 14 yards to the Panthers' 7-yard-line. Two plays later, McCoy cashed in on a 1-yard touchdown run to give the Eagles a 14-6 lead.
"I feel in rhythm all the time. I feel in rhythm when I'm in practice, just the flow of the way we prepare has me in a position where I feel like I can do it all and that's a good thing," Vick said following the game. "But I don't want to get too overconfident, I want to continue to remain humble and continue to have the same work ethic that has put me in the position to feel like this team can go places and I can do it with them. I'm just trying to stay in that flow and continue to prepare and keep doing the things that are helping us succeed."
After an interception on the final play of the first half ended Vick's truncated last-minute possession, the preseason game two scorecard read as follows:
Foles -– 6-of-8 for 53 yards, one interception and 13 rushing yards with one touchdown on two possessions.
Vick -– 9-of-10 for 105 yards, one interception and 20 rushing yards with one touchdown on three (but really two) possessions.
While we may not yet know the identity of the Eagles' starting quarterback, what has become clear is this: the Eagles absolutely have two quarterbacks who can run this offense and run it smoothly. Aside from the two mishandled snaps by Foles, the first-team offense looked like a well-oiled machine throughout its play in the first half.
For Vick, the start to the 2013 season has turned back the clock.
"I'm having fun playing football," Vick said. "I fell in love with the game again and I'm very thankful for that. You have to play this game with an intense passion and purpose. I thank coach Kelly for what he's done for me and that's just giving me that confidence that I felt like I was losing at some point in my career. You just have to keep working hard and when you do that, you get the results that you want. You can't be satisfied with this performance tonight. It's a long season and we have a lot of work to do and I understand that and I won't lose sight of that."
Asked when he lost confidence, Vick pointed to the end of the 2012 season.
"When things don't go well, when everybody's pointing the finger at you, sometimes it can hurt your confidence," he said. "You can be one of the best players in the league and sometimes outside sources can maybe waver your feelings or your emotions. I read everything that was said, I lived it. When I first sat down with coach Kelly, his main concern, his main goal was to help me get back in tip-top shape and to get me to a point where I could be comfortable and believing in myself again. I thank him for that. That's where the work ethic comes from now. That's why I come here early, I train hard, I do everything that ask me to do and I encourage my teammates to do the same thing because I see how it's helping me develop as a quarterback even in the latter stages of my career."
Still, that passion may not be enough to win the top job as Foles remains very much in the race.
"Mike's a competitor. Mike's a great quarterback," Foles said. "He always has been in the league and it's made me a better quarterback going against him, so I'm learning a lot still. Just going through this competition, I've learned a lot about myself and I just have to keep pushing and working hard. I've always said Mike and I have a great relationship, so that's always been a great deal. I'm happy to see him do well out there."
Considering the success of the first-team offense through the first two preseason games, it appears that despite the murkiness surrounding the identity of the eventual starting quarterback, the offense has quite a bright future.