Rookie quarterback Matt Barkley spent the past four years at USC trying to keep up with Chip Kelly's high-octane offense when the Trojans and the Ducks would collide. On Friday, Barkley got to be on Kelly's side for the first time in practice and, for once, the grass was in fact greener on the other side.
"You are always going back on the field after a score it seems like, not a punt or a turnover. Now that I'm on this end, I think it's a better situation and hopefully we can put that pressure on other teams," Barkley said after the first rookie minicamp practice.
"I love it. It's a new challenge. New terminology is like learning a new language in a short time period. It's the next step. I'm embracing it. I loved being out there today."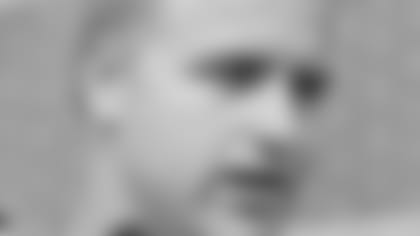 The Eagles traded up to the first pick of the fourth round to select the most prolific passer in USC and Pac-12 history. Kelly said that he was impressed with Barkley's ability to thrive under pressure and his "repetitive accuracy." The pick was considered a surprise because of the perception that Kelly needed a mobile quarterback to run his offense. Kelly dismissed that notion and Barkley was more than confident Friday that he and Kelly can work well together.
"I think I'll make it fit. It doesn't matter what Coach runs. I'm going to find a way to help this team out," Barkley said. "I know Coach Kelly has a way of working things out as well in terms of how he schemes and how he calls plays."
Barkley comes to Philadelphia competing with Michael Vick and Nick Foles for the starting job. Barkley said that Foles texted him on draft day as the two know each other from playing against each other in college - Foles played for the Arizona Wildcats. Barkley has been the starting quarterback of his team dating back to when he was a freshman at Mater Dei High School. He won the starting job at USC as a true freshman. Barkley understands that he has "a shot to play on the field this year."
"You come in as a teammate to them, not as a fan. You come in as someone who is ready to compete against them at the same time," he said of his position mates. "You come in knowing you have a job and they're trying to take that job as well. It's competition."
There are experts who think Barkley can, indeed, emerge victorious. Vinnie Iyer of Sporting News predicted that Barkley will be this year's Russell Wilson, a mid-round pick who wins a starting quarterback job. ESPN analyst Trent Dilfer told Tim McManus of Birds 24/7 that Barkley's senior year of film at USC was comparable to Eli Manning's and better than Matt Ryan's when the two Pro Bowl quarterbacks entered the NFL Draft.
Barkley's senior year began with Heisman Trophy and National Championship expectations, but ended on the sideline with a shoulder injury. Fully healthy, Barkley is focused on writing the first chapter of his NFL career and it began on the practice fields of the NovaCare Complex on Friday.
"I'm not worried about how this is going to turn out. I'm worried about the here and now," he said. "My story has been, and I think will be, different than anyone else before me."