After what he called "the craziest three weeks of my life," rookie offensive tackle Michael Bamiro officially signed a three-year contract with the Eagles Wednesday morning. Bamiro was surprisingly denied an extra year of eligibility at Stony Brook by the NCAA and, because he was already a senior, was ineligible for the NFL's Supplemental Draft. Suddenly finding himself an NFL free agent, Bamiro weighed offers from several teams before deciding on the Eagles.
"First, I was getting myself ready to play the college season and then all of a sudden I was preparing myself to get picked up by an NFL team," Bamiro said. "So it's been pretty exciting.
"I went from getting my body physically and mentally prepared for the college season and then I just started having to prepare to play at a higher level in the NFL and with professional players. It's been crazy."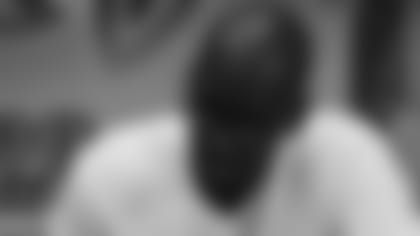 Why did he choose Philadelphia?
"It just seemed like a really good fit," said Bamiro. "I had a couple talks with the coaches and (general manager Howie Roseman) as well and it felt like they wanted me to be here and I felt comfortable making this decision and it seemed like the right place to be.
"I talked to Howie Roseman a couple times and he told me this would be a great fit for me and then I talked to Chip Kelly as well and he was talking to me about how I would add great depth to the tackle position, which is something that I really would love to do here, just start playing and be a help to this team."
Bamiro is a physical specimen at 6-foot-8, 335 pounds, and said he was pleasantly surprised that the Eagles' equipment staff had a ready-made pair of size-18 shoes for him.
"How I play is I'm going to try and play as physically as I possibly can and I'm just not going to quit," he said. "That's really part of my game, that's how I plan on attacking this football season ... I like run blocking the most, you get to get your hands on people as soon as possible, so that's really my favorite."
Now, less than a month after he was preparing for his final college season, Bamiro is on the verge of his first NFL Training Camp.
"I'm ready for whatever they throw at me," he said. "I'm going to try my best to stick around here."
To make room for Bamiro on the roster, the team released rookie offensive lineman Kyle Quinn, who was originally signed following April's NFL Draft.