Alumni Alley runs every week on PhiladelphiaEagles.com and features a former Eagle who writes about his time in Philadelphia and his perspective after his NFL career ended. This week: Former tight end Chad Lewis, who played in 110 games as an Eagle from 1997-2005 and made the Pro Bowl three times. He had 228 receptions and scored 23 touchdowns as an Eagle. Today, Lewis is an Associate Athletic Director/Development at Brigham Young University, his alma mater. He and his wife, Michelle, have five children.
Sunday's Eagles-Packers game continues a great rivalry in this league, one that was very special to me in my time in Philadelphia. The playoff game against Green Bay at Lincoln Financial Field, the famed fourth-and-26 epic, is one that I will never forget.
I remember the pageantry like it was yesterday. Here were the Green Bay Packers coming to town and we were a team that wanted to go to the Super Bowl so badly, and the Packers were there to block our path. It was a great game. And there we are, late in the game, needing points and it's third-and-26.
Now, I'm not talking about fourth-and-26. That play came a few seconds later. On third-and-26, I was the target for Donovan McNabb. I ran the same route that Freddie Mitchell ran a play later. The only difference is that when Donovan threw me a pass down the pipe, I didn't have a very athletic jump, and in fact I looked like a doofus. It became one of the most frustrating plays of my career. I wanted to make that play so badly and I looked real crappy doing it.
The next play, Donovan basically makes the same throw to Freddie and he had a knack for catching big passes from Donovan and that was one of those plays. Donovan gave Freddie basically an opportunity to win the game. Donovan threw it down the hole, Freddie took a bit hit from Darren Sharper and that was an incredible moment for all of us. I have shivers thinking of it, and of hearing the crowd.
We went down and got into scoring position and David Akers did a good job of kicking the field goal to get us into overtime and then Brian Dawkins made the interception in overtime and we went down again and won the game.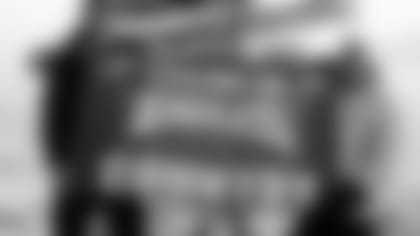 It was thrilling. It was the way those Eagles teams were. We came back time after time. We played together and had great chemistry. We looked at it during that time as, "This is who we are. This is Eagles football." We got to the point where we expected to go deep into the playoffs every year and the fans absolutely expected it of us.
I look back at those years as great times. Those losses in the NFC Championship Games make me cringe just as much now as they did then, but that win over Atlanta was sweet and to get to the Super Bowl, even though I didn't play, was beautiful.
The Eagles are in a new era now and I like what I've seen. I was with the Rams when the franchise turned it around in a year's time, and then it was the same thing with the Eagles. I got to Philadelphia and Andy Reid said to me on my first day, "Chad, I know you want to play with your friend, Steve Young, in San Francisco, but I need you here and I promise you I'm going to turn this around." I told him I would be ready for that week's game and he put me in the game and I scored a touchdown in the red zone and I became the starting tight end the next week.
We bought right in, and it doesn't take a season to turn it around. I see that now with the Eagles.
This group has so much speed and Chip Kelly knows how to utilize that speed. I like Nick Foles at quarterback and the way he uses the pocket. I like his arm, and I like the weapons around him. Nick isn't going to throw seven touchdowns every week, but he is only going to get better and better.
I feel the same kind of momentum building with this team. I felt it when I was in town for Donovan's retirement ceremony, and Eagles fans should be excited about this. Jeffrey Lurie runs the organization the right way – he's involved, but he also trusts his people and he cares about the people who represent the Eagles.
I want to thank the fans for making me always feel so welcomed. Philadelphia is always part of my heart, even when I'm not there. The fans have always been so accepting to me and my family and I love Philly. I always will.