If former Eagles safety Michael Lewis had today's game circled on his calendar, he's not saying.
However, Lewis did say this week that he has put aside the past and is solely focused on helping what he termed was an "up-and-coming" 49ers team. For Lewis, there is no score to settle with the team that drafted him in the second round in 2002. The only score that matters is the one on the scoreboard.
"I'm only motivated by the fact that we need to win," said Lewis, who has started all 21 games the 49ers have played since the start of 2007. "I'm pretty sure Philadelphia feels the same way, but I feel like we need it a little bit more."
Like Philadelphia, San Francisco has dropped two straight games. The 49ers have been plagued by inconsistent play at quarterback, stopping the run and trouble on third down, both offensively and defensively.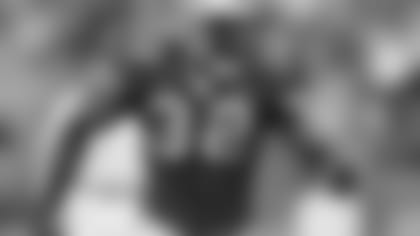 SS Michael Lewis
"The combination of staying on the field defensively too long, and not being able to stay on the field offensively, has a lot to do with the effectiveness – or ineffectiveness – of both sides of the ball," said 49ers head coach Mike Nolan.
First-year starter J.T. O'Sullivan has completed less than half of his pass attempts over the last two weeks while throwing five interceptions. For the season, O'Sullivan has completed 82-of-140 passes for 1,092 yards with seven touchdowns and six interceptions. He has also rushed for 88 yards on 22 carries.
But Nolan has no regrets about naming this NFL journeyman his team's starting quarterback.
"He's done a good job thus far, but, again, quarterbacks are measured on winning, so we've got to get back on a winning track," Nolan said.
On defense, a talent-laden secondary, which features the likes of Nate Clements, Walt Harris and Lewis, has given up a number of deep passes in recent weeks, including a 66-yard touchdown catch by Randy Moss in New England's 30-21 win over the 49ers last Sunday. As a result, the 49ers have dropped from seventh in the league in pass defense to 20th.
"Defensively, we can be doing a lot better. We're not satisfied with our play," Lewis said. "We've got a couple of areas that we need to fix, and we will get them fixed. They're fixable problems and I feel like everyone on defense feels the same way – that we'll get those problems fixed."
Troubles defending the pass ultimately cost Lewis his starting job with Philadelphia midway through the 2006 season, when he was replaced by Sean Considine. Lewis handled the situation like a professional, finished out the year and then signed as a free agent with San Francisco.
"At one point in my life I thought it was personal, but it's never personal," said Lewis, a Pro Bowl player for the Eagles following the 2004 season. "It's business. So by saying that, I'm saying that I got over it once I signed with the 49ers.
"I just moved on. You can't continue to linger on the past. You've got to move forward."
Lewis ranked second on the team in tackles in 2007 and this season ranks second on the team with 42 tackles to go along with one sack, one forced fumble, one fumble recovery and five passes defensed.
"We try to utilize the strengths that he has and put him in those situations as often as we can," Nolan said. "He's done a good job since he's been here. I'm glad he's with us."
In addition to Lewis, the 49ers feature three other players who spent time in Philadelphia, including linebacker Takeo Spikes, return man Allen Rossum and reserve cornerback Donald Strickland.
Spikes, who spent 2007 with the Eagles, has an interception in each of the last two games.
"He's a good player and a solid guy," Nolan said. "He has an impact on the people around him. He doesn't just come and play and go home. He tries to have an impact on the entire football team."