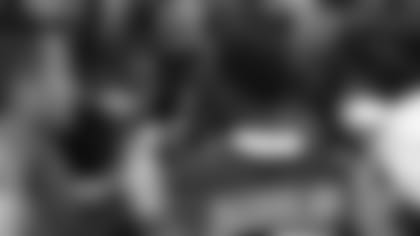 Does this sound familiar? An early-round rookie receiver impressed his teammates at the NovaCare Complex with his work ethic and attention to detail. This rookie seems mature beyond his years and, on the field, is quickly opening eyes as a playmaker. Last year, it was Jordan Matthews. This year, it's Nelson Agholor.
The striking similarity isn't lost on Matthews.
"Me and Nelson, we're like twins almost," Matthews said after Tuesday's Organized Team Activity. "He jumps right in with me and Josh (Huff) … The dude is one of the most explosive guys on the team already. So his work ethic speaks for itself, so I think we're real compatible. I love spending time with the guy, not just here but also outside of football. Great personality, I know the city's going to love him. I just can't wait to continue to get to work with him and see what he can do on the field."
Agholor too feels a familial connection.
"He's like a brother already," Agholor said of Matthews. "He's a great guy. He's been really good to me about embracing me on this team and working with me on all the things he does."
Last year, Matthews translated his eye-opening spring into an impressive rookie season that featured 67 catches for 872 yards and eight touchdowns. Agholor knows he has a long way to go before he can produce to that degree.
"What I need to do is continue to adapt and maybe adapt a little faster," Agholor said, adding later that he may need to narrow his focus for the time being. "I haven't lined up everywhere, but I'm thinking of everything, and that's, you know, it can hurt you or help you because, to be honest with you, to adapt, if you just do your job it's a little bit easier. But it's something that I kind of have to get out of my mind to stop thinking such big picture and just handle my job right now."
Agholor was also asked about the prospect of "replacing" Jeremy Maclin, who took 85 catches and 1,318 receiving yards with him to Kansas City.
"That's something I can't really concern myself with to be honest with you," said Agholor. "If that's what the rest of the community is thinking about, they're allowed to have those thoughts. For me, I need to progress out here and help this team out however I can."
In the meantime, Agholor is doing and saying the right things. He was one of several receivers and tight ends who stayed after practice throwing and catching passes with each other and he's already been cited as an early arriver to work in the morning. Asked to compare the transition from college to the NFL to the one from high school to college, Agholor explained why the intensity is even greater at this level.
"Both times there was a transition," Agholor said. "I will say the pro game is the pro game for a reason. It's a different level of ball. Everybody comes out here every day with a mentality to progress and go hard. It's a job. So in terms of college, some guys are just out there. Everybody out here was chosen to be here.
"It's a special organization, so as a rookie it's probably easier here than it is a lot of other places because you have a lot of vets that will bring you along. So for me, it's been really good in terms of feeling comfortable. But like we just said, this is the professionals. You have to come every day with the right focus and the right preparation to do what you have to do out here."