When the Eagles selected Lane Johnson fourth overall in April's NFL Draft, the buzz around him was that he was the most naturally gifted athlete of the offensive tackle prospects with the highest ceiling, but that he was also the rawest in terms of experience and technique. After all, Johnson had only played the position for two seasons at the University of Oklahoma, having begun his college football career as a quarterback at Kilgore Community College. His rise was meteoric, and the trajectory of his development suggested an accelerated growth curve that would continue at the next level.
The caveat, however, was that Johnson would likely hit bumps in the road along the way and encounter struggles like a majority of rookies. That much was apparent during the preseason. He played tremendously against the New England Patriots and Carolina Panthers, aggressively and nastily opening up holes in the run game, hustling downfield to make blocks and showing flashes that spurred comparisons to a more athletic Jon Runyan. Then came the third preseason game against the Jacksonville Jaguars, and from the very first snap Johnson had problems trying to pass block against defensive end Jason Babin.
Though Johnson has been effective as a run blocker thus far in the regular season, the inconsistent nature of his play in pass protection has persisted. Following an impressive opening performance against the Washington Redskins in which he stymied Ryan Kerrigan (and only had one miscue in missing a block that resulted in a sack), Johnson was up and down against the San Diego Chargers. He was able to handle Jarrett Johnson early, but not the speed-leverage-power-spin move combination of Dwight Freeney once the future Hall of Famer switched over to the right side. There were also the two illegal formation penalties, one of which nullified a DeSean Jackson touchdown.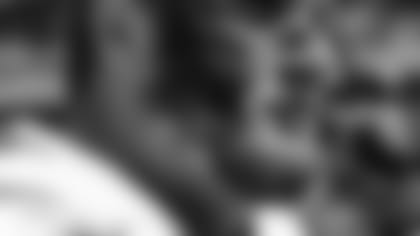 Against the Kansas City Chiefs, Johnson struggled mightily to block Justin Houston, who, like Freeney, used speed and power to give the rookie fits. Houston wreaked havoc in the backfield all night long and finished with an astounding 4.5 sacks (though the first one he got credit just for touching Michael Vick after he lost his balanced and went down). Johnson also made the wrong block on the two-point conversion attempt that enabled Tamba Hali to explode unimpeded toward Zach Ertz and make the tackle short of the end zone.
Johnson pinpointed errors in technique as the main culprit for his shaky play against the Chargers and Chiefs.
"Sometimes I overset," Johnson said. "Most of the pressure I've had this year is getting beat inside because usually I overset. Sometimes they just clean my hands (shove his hands aside and thus disrupt his balance). But I feel like other than those two sacks (against the Chiefs) I had a decent game, as far as run blocking and stuff. My deal is I'm trying to focus on pass protection and make sure there's a clean pocket where (Vick) can throw."
The good news is that technique errors are correctable through repetition and experience, and there is no question Johnson is receiving the very best tutelage the industry has to offer through offensive line coach Jeff Stoutland.
Johnson, like all Eagles players, got an extended weekend and four days off following the sprint of three games in 11 days. He returned to the NovaCare Complex on Tuesday, fresh and ready for the next challenge against the Denver Broncos.
"I think they're pretty stout up front," Johnson said of the Broncos defense. "They have two nose tackles (Terrance Knighton and Kevin Vickerson) who are 320-plus (pounds). Pretty good (defensive) ends, one of them (Robert Ayers) reminds me of (Justin) Houston. He's a good player. Other than that, they blitz quite a bit, too, so I think we'll see a lot more twists, stunts and more blitzes out of them than we did Kansas City."
Johnson understandssome struggles are inevitable, and that the most important factors are being patient, learning from his mistakes and responding.
"Pretty much, yeah (I have to be patient)," Johnson said. "You have to go out there and play with technique and hope everything goes right. My deal is I'm going against different players every week and the more I play, the better I'll get."
Head coach Chip Kelly has said before that one of Johnson's best traits is that he is a quick learner who rarely makes the same mistake twice. After taking some lumps against the Chargers and Chiefs, Johnson knows what he did wrong and what he must do to rectify those issues. For a rookie traversing the treacherous obstacle course that is his first season in the NFL, steady improvement is the name of the game, and Johnson will get a chance to get back on track Sunday in Denver.