In 2014, Eugene Byrd's grandmother's home in North Philadelphia, near Temple Hospital, was ravaged by fire.
"We lost everything, stud to stud," he said.
His family was safe, but the keepsakes from his storied high school football career at North Catholic went up in flames. Nicknamed "U-Turn," Byrd posted two 1,000-yard rushing seasons and scored the game-winning touchdown in the 80th and final Thanksgiving Day showdown with rival Frankford as the school closed after his senior year in 2010.
Byrd continued his college career at Wesley in Dover, Delaware, a Division III program. In his final year, he was part of a run to the NCAA quarterfinals that ended in with a heartbreaking 62-59 loss to powerhouse Mount Union, who went on to the finals.
The mementos from that year were also burned to ash in the fire. That is until he received a call recently from new head coach Chip Knapp.
Byrd ordered a ring from that 2013 run to the quarterfinals. He had another year of eligibility to play football after suffering a hand fracture in his freshman year, but he earned his degree in sports management from Wesley and was embarking on an internship with the Philadelphia Eagles. Byrd admitted that he forgot about the ring, but it was discovered in the desk of his former head coach, Mike Drass, who passed away in May.
Byrd parlayed that internship in the Eagles' ticket office into a full-time job in the team's facility and stadium operations department. Now in his fifth season with the team, Byrd was recently reunited with a teammate from that tournament run in Joe Callahan. The Absecon, New Jersey native was a record-setting quarterback at Wesley, who signed with the Eagles in the spring. Tonight, Callahan will be in the spotlight as Philadelphia hosts the New York Jets in the annual exhibition finale (7 p.m., Lincoln Financial Field) between the two squads.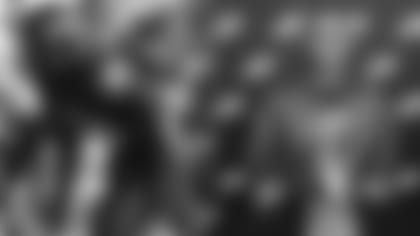 "It's been a ride," Byrd said. "I follow Joe everywhere he goes and everywhere he's been, leaving Green Bay and going to Cleveland and then from Cleveland back to the Saints, from the Saints back to Green Bay, and from Green Bay to here. And so, our coach has a group chat and would keep us updated, and you could send him some words of encouragement.
"It was one of our guys from a small school in a small town who was a getting a shot and taking advantage of it. Plenty have come and gone, but Joe has always been the guy. He was the perfect person for the situation. He was talented and super humble, so it was fun, and it still is."
In his redshirt freshman season of 2011, Byrd was paired together with Callahan, a true freshman at the time, to play for Wesley's JV team against Coppin State in Maryland. Byrd had battled a hamstring injury for most of the season, so it took time for the two to garner chemistry.
"Joe and I were the only ones who knew the playbook in and out because we both had studied it for so much time. And in that game, they started letting Joe call audibles, so Joe actually audibled me into an eight-man blitz that got my helmet snapped off," Byrd laughed as he recalled the memory.
"We took a beating, but we had to get back to practice the next day. In college, the JV games are on Sundays, so all the young guys travel Sunday and get back to the grind Monday."
Callahan was sidelined for 2012 due to injury, so 2013 was the only full season the two had together. The Wolverines opened on a tear, winning five of their first six games including a 40-0 victory over Virginia-Lynchburg.
"In the first game, Joe comes out firing for 500-plus yards and like four or five touchdowns," Byrd said. "Joe was throwing it so well, and as the season progressed, we started making a name for ourselves, winning and traveling across the country."
Wesley beat Johns Hopkins and Ithaca in the first two rounds of the NCAA tournament before traveling to Alliance, Ohio to take on Mount Union in the quarterfinals.
"We got out there and at halftime, we're down like 21-0 or something, then Joe started throwing it and we were still down four or five scores in the fourth quarter," Byrd said. "Joe in the last five minutes throws two touchdowns that are over 70 yards, and we ended up losing that game by three points, 62-59, but Joe kept us in it.
"And that was my last game, I walked away from the game after that having played with some great people, and Joe was one of those."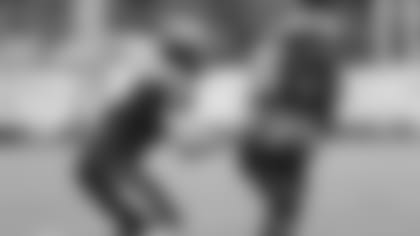 Callahan knew Byrd was destined for bigger and better things after his football career. He was confident that once Byrd got his foot in the door with the Eagles, it would only be a matter of time before he was hired on a full-time basis. Callahan praised Byrd's relentless work ethic and energy which helped fuel the team during the dog days of Training Camp.
Byrd will make sure to carve out a few minutes tonight to witness Callahan in action. Seeing Callahan on the field takes him back to the huddle at Wesley.
"And the crazy part is, you watch his mannerisms, you watch him approach the huddle, you watch him in the huddle, you watch his demeanor after the huddle, it's all the same. Nothing's changed," Byrd said. "For me, it's like going into a time capsule and seeing the old Joe that I personally know."